We've been selling the Aquatec ERP-1000 permeate pump for years. In response to customer requests, Aquatec has produced a quiet version of the pump, called the ERP-500, that is designed to work on RO units with membranes up to 50 gallons in capacity. (We still have the ERP 1000 for larger production membranes, or for those who for any reason want a pump that makes more noise.)
The quiet 500 offers the same water saving performance as the older model, and the price is the same. Please see our main website for a full discussion of the great advantages of the permeate pump.
The 500 is not yet available on our main website, but you can order by phone by calling 940 382 3814, or you can order the ERP-1000 from our main shopping cart website and simply type in that you want the ERP-500 instead.
Permeate Pump comes with its own mounting clip and full installation instructions.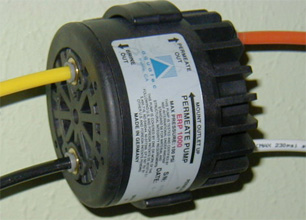 Aquatec ERP-500 Permeate Pump for use with RO membranes that produce 50 gallons per day or less. Mounting clip is included. --
The ERP-500 is offered for sale on our main website.