The New Model 77 Ionizing Countertop Water Filter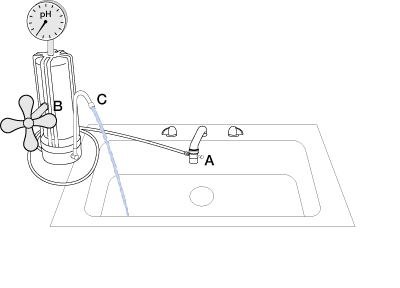 Pure Water Products' Model 77 Ionizing Countertop Water Filter. A breakthrough in low cost, high performance ionization.
Finally. . .
Finally, a water ionizer that works without electrical gadgetry. The Model 77 Water Ionizer offers a totally new approach to water ionization. A single knob controls the entire process. No chemical to mix, no multifunctioning gadgets, no whirring and purring. Just turn the knob and look at the big, easy-to-read pH meter. What you see is what you get. You'll think it works by magic (and maybe it does).
Finally, a water ionizer that doesn't cost $1700. This affordable countertop unit, designed for use in mobile homes as well as mansions, is the latest addition to our Model 77 family of unequaled countertop water filters. We call our original Model 77 "the world's greatest $77 countertop water filter." The new ionizing unit, called Model 77-I, carries the same $77 price as regular Model 77 units.
Finally, a water ionizer that breaks all performance records for alkalinity enhancement and pH amendment. We haven't just made an inexpensive ionizer, but we've improved on the whole concept of water ionization.
How does it work?
Model 77-I  is a self-modulating anti-oxidizing hydrolator that detoxifies as it hydrates and alkalizes.  As it modulates and multi-neutralizes, it induces a state of hyper saturation of both free and captive radicals.  Superhydration and hyper modulation are achieved by reverse modulation of water that has been subjected to reverse osmosis dynamics that are built into the system. Thus the reversal caused by reverse osmosis is itself reversed so that forward osmosis is the end result and the undesirable effects of reverse osmosis are nullified and voided by bilateral reverse hydrolation at the nano particle level. 
Although the procedure is simple, the result is water so powerful in induced alkalinity that it will take your breath away.
Operation of Model 77-I is simple. Just use the diverter valve to start water through the unit as you would with a conventional Model 77 countertop unit, then using the special pH regulator (B), adjust the pH to your desired preference. You'll be delighted to see that Model 77-I's special modulating forces will actually push the pH levels as high as 15.6! And if you require low pH water, just turn the modulating knob counterclockwise and watch the meter descend. If you dare, you can drop the pH to the level of vinegar or muriatic acid or even Coca Cola, producing water that will actually strip paint off of metal surfaces!
Model 77-I will be on the market soon. Look for it on our web sites:
http://www.countertopwaterfilters.com
http://www.purewaterproducts.com
Return to the Pure Water Gazette.