For decades Pura's standard plastic housing units have set the standard for residential and light industrial ultraviolet water treatment. Now Pura offers an alternative series of top quality stainless steel UV units with enhanced performance features like higher lamp output and electronic performance monitoring. (Don't worry. Standard Pura plastic systems aren't being discontinued. The Stainless Steel units offered on this page supplement, but will not replace, Pura's traditional plastic units.)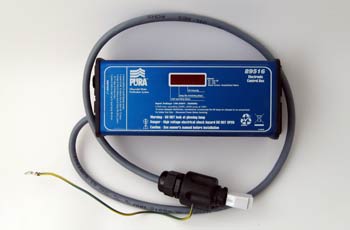 Easy to install, easy to set up. Above, the control module for a Pura Stainess unit.
To understand the differences between the conventional Pura units and the new stainless units, it's necessary to talk a bit about how UV dosage is measured. UV dosage is typically described in units called "Joules," and it is most frequently expressed in terms of "mega Joules per square centimeter," or mJ/cm². (Microwatts per second per square centimeter, expressed as µWs/cm2, and mJ/cm2 represent the same dosage and are used interchangeably.) The higher the number, the higher the dosage. The UV dosage increases as the flow rate of the water being treated decreases, so a UV unit that puts out a dosage of 16 mJ/cm² while treating water at a flow rate of eleven gallons per minute (gpm) will be rated as 40 mJ/cm² if the flow rate is decreased to 4.5 gpm.
NSF International believes that a UV dose of 40 mJ/cm2 is the minimum UV dose required to ensure that all bacteria, viruses, Giardia and Cryptosporidium are killed or inactivated to a safe level. However, for practical purposes, much smaller doses are usually regarded as adequate. The most common concerns, e Coli, Giardia, and Cryptosporidium, are effectively eliminated at less than seven mJ/cm².
Pura's stated gallon-per-minute ratings for its stainless models are based on a dosage rate of 30mJ/cm². In other words, the UVSS-6 has a 30mJ/cm² rating at a flow of 6 gpm. As the table below indicates, there's a significant margin of safety built in. (The conventional plastic Pura units are rated for a dosage rate of 16 mJ/cm², so comparing the two systems can be tricky. A Pura "Big Boy" series plastic unit, for example, that is rated for 16 mJ/cm² at a flow of 15 gallons per minute, has a much higher dosage rate at normal residential flow rates.)
Warranty on all units:
7 years on the Stainless Steel Reactor Chamber
1 Year on UV lamps and Quartz Sleeve
5 Year Pro-Rated warranty on all other components
Pure Water Products stocks all parts for Pura stainless units. All units are in stock and ready to ship the day we receive your order. Please call if there are questions.