What Would Our Lives Be Without the Garden Hose?
To Read This Special Garden Hose Issue on Our Website
The Pure Water Occasional's Practical Guide to Garden Hose Filters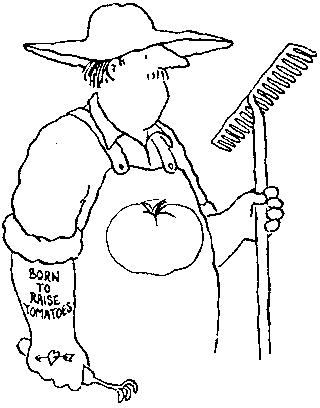 If you were born to raise tomatoes or to have a spot-free car or patio or to own a chlorine-free coy pond or flower bed or even to take a good-tasting drink of water from your garden hose, you should certainly have a garden hose filter.
The first garden hose, I'm told, dates from around 400BC, and it was made of ox gut. Another source says that the first hose was made of linen and that it was invented in Amsterdam by Jan Van Heiden in 1652. Pure Water Occasional technical writer Pure Water Annie also credits herself with the invention of the garden hose; though the date has been forgotten, she remembers clearly that she made the first hose out of hollowed-out rope.
We do not have filters that fit Egyptian ox gut hoses or Dutch linen hoses or hollow-rope hoses, but we have many filters for conventional garden hoses in many sizes and many treatment objectives. In fact, because of the vastness of our offerings, we have declared ourselves the absolute kings of the garden hose filter.
How We Got To Be Kings of the Garden Hose Filter

We built our first garden hose filters with the idea that they would be useful items for organic gardeners, like the man above, who wanted to put chemical-free, chlorine-free water on their plants. This was easily done with standard carbon block filters in standard filter housings and hardware-store garden hose adapters.
Then a gentleman called and asked if we had a solution for white streaks he was getting on his patio when he rinsed it with his garden hose. We made him a miniature water softener by putting standard softener resin into a cartridge and putting it in the standard garden hose delivery system we had built. He was pleased.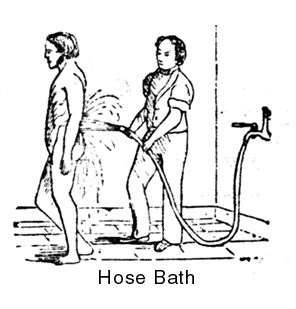 This unfortunate man lived before the invention of the garden hose filter and consequently had to endure being hosed down with sandy well water.
Then we made filters for people who got stains on their driveway when they watered their flowers and people with wells who wanted to keep the iron or the calcium buildup out of hot tubs and kids' wading pools. Then for people who wanted to protect fish from chlorine and people who wanted their horses to have the purest water possible. There were people who wanted to keep chloramines out of their coy ponds and work crew supervisors who wanted good tasting water for workers who filled their water bottles from a garden hose at the building site.
But the great discovery we made was that there is a whole cultural subset of Americans, mostly male, whose main object in life is to have a spot-free automobile. We were stunned to learn that people devote countless hours and many dollars in passionate pursuit of the illusive spot-free car wash.
So, if you need an outdoor water filter to make chlorine-free water for your petunia bed or your dog's water bowl, to reduce the hardness in the water you use to wash your car or rinse your patio, or if you have a need to remove the chemicals and chlorine from the water that fills your outdoor fish pond, we have an easy and inexpensive solution.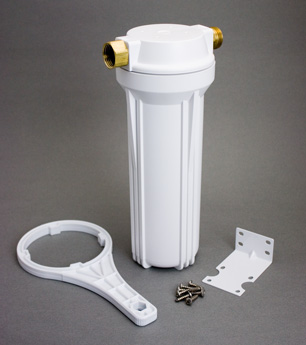 Basic White Garden Hose Filter.
This housing accepts standard 2.75" X 9.75" cartridges (the most common size made). We have it in white and clear. The full package includes a filter wrench, a mounting bracket and screws. Cartridges are ordered separately. Any cartridge on this page will fit it.
Our basic garden-hose filter uses standard-sized (2.5" x 9.75") filter cartridges and connects to standard 3/4" garden hose fittings. You'll need two hoses—one to provide an inlet and a second to deliver the water to its point of use. The adapters are included as well as a mounting bracket in case you'd like to hang the filter on a wall or the side of a garden cart.
What the filter does depends on the cartridge you put in it. Here are some typical uses.
Suggested Applications
Car washing & spot free rinsing. You'll get an improved car wash if hardness is a problem, but we recommend that you read our discussion of the much sought-after "spot-free car wash"  as well as our capacity chart for softening cartridges.
Sediment filtration for removal of sand and silt and for cleaner, clearer water in general.
Ceramic or Nano Ceram filtration for removal of viruses, bacteria, and cysts.
Chlorine, chloramine and all-around chemical reduction for plants & animals. To water your garden, fill your dog's bowl, or add water to your fish pond.
Remove iron from water for hot tubs and small pools. (Iron reduction is tricky and cartridge capacity is limited. We recommend that you read more about iron reduction or call for advice before purchasing, and that you keep in mind that a small cartridge can't be expected to hold a lot of iron.)
"Sequester" iron and hardness to prevent staining and scale buildup.
Raise the pH of acidic water.
Provide high quality drinking water for outdoor workers or athletes.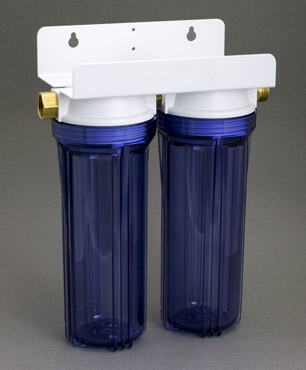 A Double Clear Garden Hose Filter. The double filter allows either variety (a sediment cartridge in one canister and a carbon block in the other, for example) or intensity (two softening or two iron reduction cartridges). If you want a triple filter, don't hesitate to ask. As kings of the garden hose filter, we feel obligated to build garden hose units in any format you want.
In addition to the standard size garden hose units shown above and at left, we stock garden hose filters for 2.5" X 20" cartridges, 4.5" X 20" cartridges, and 4.5" X 20" cartridges. We can even build you a small full-fledged water softener for outdoor use, fed by a garden hose and controlled by a non-electric Fleck 2510 control. For those who want to fill a tank (for example, in a greenhouse) with very high purity water, we have garden hose adapters for our reverse osmosis units. Our countertop RO can provide very high quality water for plants and animals, or even for a final spot-free car wash rinse, for a very low price.
Limitations (the fine print)
Although garden hose filter cartridges are available in many treatment options, it must be clear that not all are equally effective. There are limitations to everything. You should not expect a small cartridge to perform as well or as long as a large bed of the same filtration medium in a tank-style filter. Volume-wise, a standard filter cartridge used in a garden hose filter contains about 1/40 of a cubic foot of filtering or softening medium. An average-sized water softener contains one cubic foot of resin.
I'll illustrate the limitations with a reference chart from out main website. The purpose is to show the limited lifespan, or the limited batch time between regenerations, of the simple garden hose filter.
Softening Cartridge Capacity
The chart below expresses the theoretical performance capacity of our water softening cartridges in four sizes. It assumes the standard 32,000 grain per cubic foot capacity of new cation softening resin. Figures for regenerated resin are actually lower.
The chart is for information only and is not a guarantee of performance. Actual performance can be influenced by a number of variables.
| Cartridge Size | | Cu. Inch Capacity | Cu. Ft. Capacity | Gallons of 7 Grains Per Gallon Water Treated. | Gallons of 15 Grains Per Gallon Water Treated. | Gallons of 40 Grains Per Gallon Water Treated. |
| --- | --- | --- | --- | --- | --- | --- |
| 2.5" X 9.75" | | 41.75 | 0.024 | 105 | 45 | 15 |
| 2.5" X 20" | | 101.4 | 0.059 | 255 | 120 | 45 |
| 4.25" X 10" | | 106.35 | 0.062 | 263 | 128 | 45 |
| 4.25" X 20" | | 248.13 | 0.144 | 615 | 285 | 105 |
Softening cartridges can be regenerated (partially, not perfectly) by soaking them in a strong brine solution. Information on regenerating softening cartridges can be found here.
The chart shows the softening cartridge's limitations, especially if you have very hard water. For more information about car washing filters (and a stunning picture of the Pure Water Products vehicle fleet), see these  "spot-free car wash" suggestions.
I should note that some filter types perform extremely well and offer long service even in the small garden hose format. The best example is chlorine reduction. Even a small garden hose filter can dechlorinate thousands of gallons of water when equipped with a modern carbon block cartridge.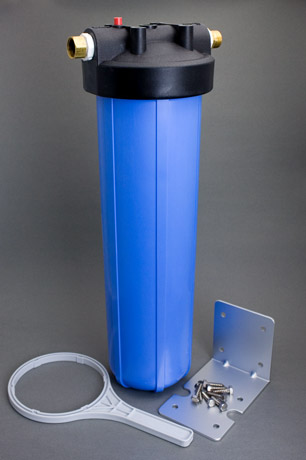 Large garden hose filter uses 4.5" x 20" cartridges and has about 6 times the capacity of a standard garden hose filter. With a carbon block filter, it can have the capacity to remove chlorine from 40,000 gallons of city water.
Go here for garden hose filters on our main website.
| | |
| --- | --- |
| | Thanks to all who entered my contest in the March Occasional. Your reward is on the way. |
Pure Water Products
940 382 3814