Multi-Pure Stainless Steel Solid Carbon Block Filters
State of the Art in Solid Carbon Block Filtration
To read this special issue on our website.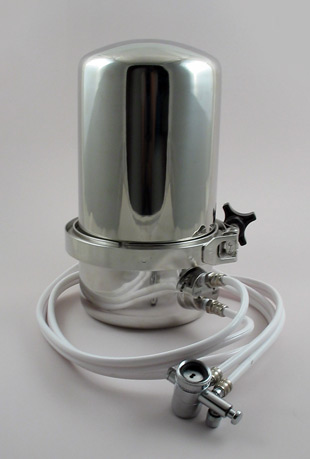 The Classy Multi-Pure VOC Countertop Filter uses the "return" style diverter valve. The hefty "VOC" carbon block is the same cartridge that's used in the undersink unit. The unit can easily be converted for undersink use.
Late last year the Multi-Pure Corporation of Las Vegas celebrated its 40th anniversary in the water treatment business. Later this year, Pure Water Products of Denton, TX celebrates its 25th year of selling Multi-Pure units.
Multi-Pure was founded in 1970 as a door-to-door marketing company in the Los Angeles area. It sold its own solid carbon block filters and and also provided "private label" versions of its filters to the OEM market. In 1982 Multi-Pure launched a network marketing program which is still active. There are thousands of Multi-Pure independent distributors around the world.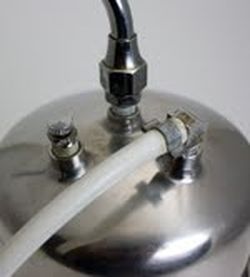 Above is a 1986 Multi-Pure 500, one of the first water filters we purchased. Note the plugged hole in the dome, a feature of very early Multi-Pure units. No one, not even the old timers at Multi-Pure, remember the purpose of the extra hole. Multi-Pure's current CB6 replacement cartridge still fits this unit.We have customers who purchased the "Multi-Pure 500" from us in the 1980s who still use them. The stainless steel case came with a 25-year guarantee, and we've never had a warranty request on one.
Today, Multi-Pure is located in Las Vegas but has a manufacturing subsidiary as far away as Shanghai.
The story is that the founders of Multi-Pure, the Rice brothers, Alvin and H. Allen, got their company rolling by following Los Angeles bottled water delivery trucks through the streets and taking down delivery addresses. Using the addresses as their sales leads, they knocked on doors and solicited bottled water users with the message that owning one's own water filter not only provided better water but could save the owner a ton of money.
This story may be true, or not, but it's part of the lore that in the 1980s and 1990s lifted Multi-Pure to virtual cult status and spawned a swarm of multi-level marketers who went forth with religious zeal preaching the virtues of the solid carbon block, the company's hallmark product, and NSF certification, its chief marketing strategy.
Multi-Pure built its success mainly on a single high quality product, the "Multi-Pure 500," a stainless steel drinking water filter guaranteed for a quarter of a century. The company stressed the importance of third-party certification and based its marketing program on word of mouth advertising and recruiting its customers as dealers: a top quality product and the opportunity to make money.
Multi-Pure VOC Units
A few years ago Multi-Pure opened an additional division to sell products through conventional marketing methods. For this they created a line of commercial drinking water units that are almost identical to their MLM-line but different enough that commercial sellers can't compete with the MLM division.
It is the commercial units that we offer on our website, although we can, and do, provide parts and cartridges for the MLM units if you ask for them.
At Pure Water Products we have a special feeling for Multi-Pure because the Multi-Pure 500 was our very first product.
Commercial Multi-Pure units carry the same certification and guarantees as the network marketed products, but they have some distinct design features. These are illustrated in the pictures below.
NSF certification for Multi-Pure units is the most extensive of any carbon water filtration unit on the market. See the list on the NSF website. Commercial units, called the Multi-Pure VOC's, carry the same extensive certifications as the MLM units.
We offer undersink Multi-Pure VOC units with our own standard faucet and inlet kit, so you have a Tomlinson faucet, superior to the actual Multi-Pure faucet offered by other vendors. The countertop Multi-Pure is available only in the "return" diverter style (see picture at the top of the page), providing a clean, spout free design for the unit itself.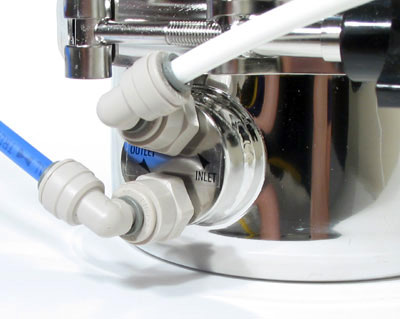 The CBVOC-SB has a unique vessel design with both inlet and outlet ports located near the bottom of the vessel. We've enhanced the standard Multi-Pure version by adding quick connect fittings. See the picture at right. We install John Guest-style straight fittings on the unit and include Plug-In elbows—shown installed in the picture—which give the installer the option of a straight fitting or a unique swiveling elbow. Both the elbows and the tubes simply push into the fittings—no tools needed.
Here are some reasons why you might want to choose a Multi-Pure unit as your home drinking water provider:
Certification. If third-party certification is important to you, you won't find a drinking water filter with better credentials. Multi-Pure has invested heavily in attaining and maintaining NSF (and other third party) certification over the years.
Simplicity. A Multi-Pure stainless steel unit is a very simple device with no complications. Easy to service, easy to understand, easy to install, easy to use. In some ways it reminds me of my Bose radio.
Carbon block technology. A proven technology. Multi-Pure is among the nation's leading makers of solid carbon blocks. The standard VOC Multi-Pure block is a tight half-micron filter made from a very thick wall of coconut shell carbon. Multi-Pure blocks, in addition to superb chemical reduction, are engineered to remove cysts and heavy metals.
Reasonable upkeep cost. At our current cartridge price, the upkeep is about $60 per year for a Multi-Pure unit. That's less than 20 cents per day for virtually unlimited gallons of superb quality water.
Longest warranty in the industry. The stainless steel filter housing is guaranteed for 25 years. Accessory parts are guaranteed for one year.
Reasons that you might want something else:
Relatively high initial cost. Although we sell Multi-Pure units at a considerable discount from the national retail price, they're still on the high side when compared with some other credible undersink filters. For example, our Black and White double undersink filter offers comparable (though uncertified) carbon block performance at about half the price.
It isn't a reverse osmosis unit. Reverse osmosis offers many popular features (e. g. fluoride reduction, nitrate reduction, sodium reduction) that carbon block filters aren't capable of.
Multi-Pure Hybrids
In addition to the standard Multi-Pure VOC countertop and undersink units, we sell the basic filter alone as an inline unit. The price, of course, is less for the inline unit. It can be used as a refrigerator filter or to filter for an existing faucet.
We've also combined the standard inline Multi-Pure with other filters from our own product selection to create a group of "hybrid" Multi-Pure units. These combinations include adding a fluoride filter to a standard Multi-Pure unit, a KDF cartridge to greatly extend the filter's life, and even an RO unit which uses the superb Multi-Pure carbon block as its final filter. You can see these nifty combos on our website.
Prices for standard Multi-Pure VOC units
Multi-Pure does not allow vendors to post product prices lower than its "suggested retail." We abide by this policy, but provide an auto responder on our Multi-Pure page that will email you a complete list of up-to-date Multi-Pure prices upon request.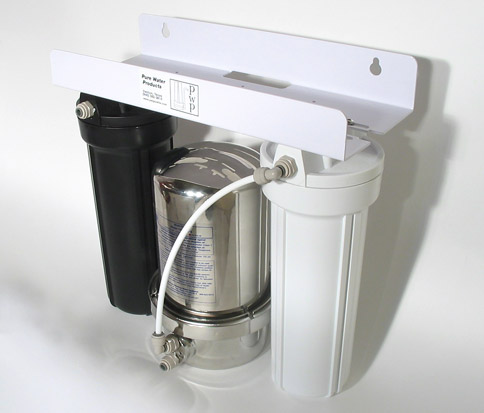 Above. From our Hybrid Multi-Pure Series, a double fluoride filter with Multi-Pure VOC undersink unit.
This unit adds two activated alumina cartridges to our standard CBVOC-SB Multi-Pure unit. The unit is designed for easy installation and maintenance with all John Guest quick-connect fittings.
This hybrid system comes with both a ledge faucet and an inlet valve. Standard faucet is your choice of a Tomlinson brand "Pro-Flo" or the Contemporary "Value" style faucet. Additional faucet styles and finishes are available on our faucet page.
Pure Water Products
940 382 3814