Special Mid-Month Issue
September 15, 2012
We hope you'll read the Pure Water Gazette's new "Today's Top Water News" section. New articles appear daily. Some examples of recent posts are included in his issue.
Ultrafiltration: Between Conventional Filters and Reverse Osmosis
by Gene Franks
In water treatment, the term "ultrafiltration" is used to describe a filtration process that separates out particles down into the 0.1 to 0.001 micron range.
That's extremely small when compared with conventional filtration, but it's large when compared with nanofiltration and reverse osmosis. Ultrafiltration is tight enough to strain out pesky colloidal particles that conventional filters can't hold, and it rejects both organic and inorganic polymeric molecules. It cannot, however, remove ions and organics with low molecular weights (sodium, calcium, sulfate, for example), which are handled by reverse osmosis.
Molecular weight, in fact, is the yardstick by which ultrafiltration systems are usually measured. For example, an ultrafiltration membrane that removes dissolved solids with molecular weights of 10,000 is said to have a molecular weight cutoff of 10,000. Such a membrane has a nominal pore size of about 0.003 micron.
Compared with reverse osmosis, ultrafiltration membranes have extremely high flux rates. (Think of flux as the speed that the product water goes through the membrane.) They can also be operated at much lower pressure. As with reverse osmosis, temperature can have a great effect on performance, with lower temperature resulting in reduced flux rate.
Unlike conventional filters, untrafiltration membranes do not trap and hold contaminants but like the reverse osmosis membranes they act as a barrier, holding contaminants until they are washed away. Ultrafiltration works in the same cross-flow separation method as reverse osmosis.
One great advantage of ultrafiltration membranes is that they can operate at pressures much lower than those required for reverse osmosis. In fact, UF systems usually operate at pressures below 100 psi, and 50 psi operation is common.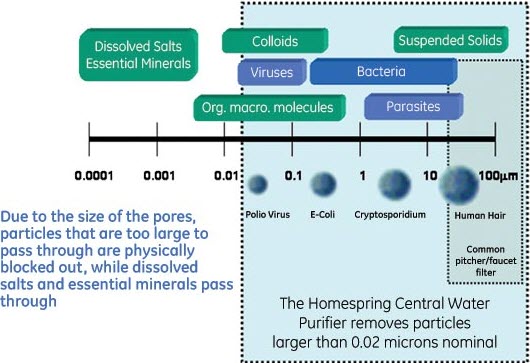 The chart above shows the operating range of a residential ultrafiltration system, Pentair's Homespring treatment module.
In practice, industrial use of ultrafiltration is far ahead of residential application. For example, in the semiconductor industry, ultrafiltration is rapidly replacing the 0.2 micron conventional filter because of its superior particle removal capacity and its ability to eliminate the bacteria grow-through that occurs will conventional filters.

This Dow commercial UF system can process over 300,000 gallons of water per day.
Go here for a good discussion of the ultrafiltration process, and look for more about ultrafiltration, including residential UF systems, in future Occasionals.
The EPA Celebrates Its 40th Birthday
by Hardly Waite
The EPA is a challenged entity.  Its effectiveness waxes and wanes according to the blowing in of the political winds, but it's the best thing we have going.  The Gazette urges you to support the EPA, regardless of the direction of the hot winds blowing out of Washington.
The current mood in Congress has put the Environmental Protection Agency (EPA) in the cross hairs.  Several members of Congress and even one presidential candidate have stated that they would remove the power of the EPA to control pollution by doing away with the Clean Air and Water Acts. Some would just get rid of the EPA altogether.
In North Texas we breathe some of the worst air in the country because our former US congressman stood up for "our rights" for years by opposing the EPA's efforts to impose air quality regulations on us.  As you might guess, that former congressman has moved on to better and richer things and doesn't have to live here and breath the air.
The first major US law to address water pollution was passed under President Truman in 1948. It was known as the Federal Water Pollution Control Act. As public awareness of water pollution and concern over the condition of our waters grew throughout the fifties and sixties, public pressure led to sweeping amendments to the 1948 law under President Nixon. The amended 1972 version became commonly known as the Clean Water Act (CWA).
The 1972 amendments:
Established the basic structure for regulating pollutants discharged into the waters of the United States.
Gave EPA the authority to implement pollution control programs such as setting wastewater standards for industry.
Maintained existing requirements to set water quality standards for all contaminants in surface waters.
Made it unlawful for any person to discharge any pollutant from a point source into navigable waters, unless a permit was obtained under its provisions.
Funded the construction of sewage treatment plants under the construction grants program.
Recognized the need for planning to address the critical problems posed by nonpoint source pollution.
Since 1972, many changes in the law have been made, most of them reflecting the political mood of the time. The law has been weakened, but it remains the best protection we have. Please support the Clean Water Act and the EPA, the organization that administers it, unless, of course, you believe that Monsanto and General Electric, if given free reign, would take it upon themselves to keep our waters clean.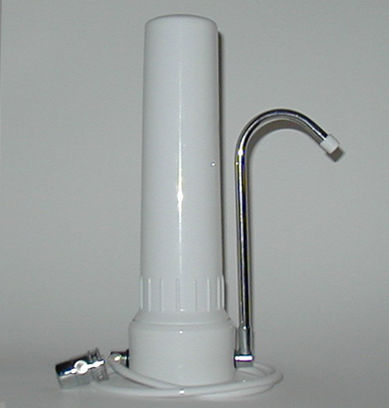 The Year that the EPA celebrates its 40th birthday, our classy Model 77 countertop filter celebrates its 25th. One thing that's impressive about the product is that the price hasn't changed in 25 years, and we can still call it "The World's Greatest $77 Water Filter." Another amazing thing is that the lifetime guarantee is still in effect. This week we sent replacement parts to a Boston customer with a 1991 Model 77 that was built with plastic spout and tube elbows rather than the current stainless steel parts. We've improved it a lot over the years, but we haven't changed the price. Pictured above is the Candle or Slimline version. Go here for other styles and cartridge options.
Rainwater Harvesting in Texas–A Practical Approach to Water Shortage
For centuries, people have relied on rainwater harvesting to supply water for household, landscape, livestock, and agricultural uses. Before the advent of large centralized water supply systems, rainwater was collected from roofs and stored on site in tanks known as cisterns. With the development of large, reliable water treatment and distribution systems and more affordable well drilling equipment, rain harvesting was all but forgotten, even though it offered a source of pure, soft, low-sodium water.
A renewed interest in this time-honored approach of collecting water has emerged in Texas and elsewhere because of escalating environmental and economic costs of providing water by centralized water systems or by well drilling. The health benefits of rainwater, and potential cost savings associated with rainwater collection systems have further spurred this interest.
An Outstanding Texas Application of Rainwater Harvesting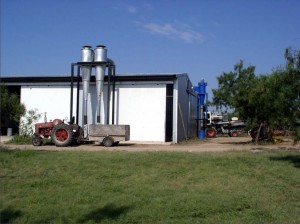 Native American Seed seed-cleaning plant, Junction, TX.
Native American Seed, founded in 1988 by Jan and Bill Neiman, specializes in native wildflower and prairie grass seeds from the Texas-Oklahoma-Louisiana region. In mid 2011, as the drought in the area took hold, the scarcity of drinking water became an issue and the Texas Commission on Environmental Quality began curtailing the watering of all native wildflower and prairie grass seed crops. Acting proactively, Native American Seed voluntarily cut back its farm production and – going a step farther – began to explore a more sustainable source of future water supply for its operations. They settled on rainwater harvesting.
The system that Native American Seed installed has a 30,000-gallon Pioneer Galaxy® tank, a 55-gallon first flush diverter, a 12V pump powered by a 185-watt solar panel, two sediment filters, one carbon filter, and an ultraviolet lamp. The pump and the treatment system are housed in a new pump house that was constructed of dry stacked cinder blocks with a plaster of surface bonding cement to insulate the pumping and filtration system in the pump house. The rainwater harvesting system is designed to meet up to 85% of the water demand (potable and non-potable) at the seed-cleaning plant.
Adapted from Texas Water Development Board News.
Reprinted from
Pure Water Gazette.
New Zealand Joins Ecuador in Granting Rights to A Body of Water
Introductory Note: In "The Gazette's Great Water Article,"  Gene Franks wrote: "The degradation of water in modern America has been cruel and complete. Water has meaning only to the extent that it is useful to us. We speak of animal rights and children's rights, meaning the rights of animals and children, but "water rights" refers only to the right of humans to exploit water. Water itself has no rights, no existence apart from our purposes."  It is encouraging that at least two countries, New Zealand and Ecuador, have seen fit to officially recognize the legal rights of water.–Hardly Waite, Gazette Senior Editor.
From the dawn of history, and in cultures throughout the world, humans have been prone to imbue Earth's life-giving rivers with qualities of life itself — a fitting tribute, no doubt, to the wellsprings upon which our past (and present) civilizations so heavily rely. But while modern thought has come to regard these essential waterways more clinically over the centuries, that might all be changing once again.
Meet the Whanganui. You might call it a river, but in the eyes of the law, it has the standings of a person.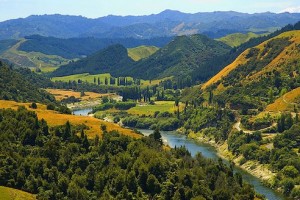 New Zealand's Third Largest River, the Whanganui, Has Been Granted the Rights of "Personhood"
In a landmark case for the Rights of Nature, officials in New Zealand recently granted the Whanganui, the nation's third-longest river, with legal personhood "in the same way a company is, which will give it rights and interests". The decision follows a long court battle for the river's personhood initiated by the Whanganui River iwi, an indigenous community with strong cultural ties to the waterway.
Under the settlement, the river is regarded as a protected entity, under an arrangement in which representatives from both the iwi and the national government will serve as legal custodians towards the Whanganui's best interests.
"Today's agreement which recognises the status of the river as Te Awa Tupua (an integrated, living whole) and the inextricable relationship of iwi with the river is a major step towards the resolution of the historical grievances of Whanganui iwi and is important nationally," says New Zealand's Minister for Treaty for Waitangi Negotiations, Christopher Finlayson.
"Whanganui Iwi also recognise the value others place on the river and wanted to ensure that all stakeholders and the river community as a whole are actively engaged in developing the long-term future of the river and ensuring its wellbeing," says Finlayson.
Although this is likely the first time a single river has been granted such a distinction under the law, chances are it's not the last. In 2008, Ecuador passed similar ruling giving its forests, lakes, and waterways rights on par with humans in order to ensure their protection from harmful practices.
And, while it may seem an odd extension of rights, in many ways it harkens back to a time when mankind's fate was more readily acknowledged as being intertwined with that of the rivers, lakes, and streams that sustained us — a time in which our purer instincts towards preserving nature needn't be dictated by legislation.
Reprinted from Tree Hugger.
Pure Water Gazette Fair Use Statement
Early September Water News
The Pure Water Gazette features its pick of the top water news story each day. Here's what you missed in the first half of September if you haven't been reading the Gazette: