Undersink Drinking Water Filters: Dollar for dollar, the best value in drinking water treatment products.
To read this special issue on our website.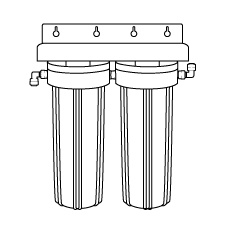 Standard Size Filter Housings Used in Our Black and White Series Units
The double filter shown above comes with its own ledge faucet and inlet adapter.
Multi-cartridge drinking water filters are much under-rated. A good undersink double or triple filter can produce very high quality drinking water for many years with maximum convenience, minimum maintenance, and at a cost that is only a fraction of that of bottled water. Undersink filters use neither electricity, like a distiller, nor water, like reverse osmosis, so they're economical performers with a basic simplicity that makes them almost maintenance-free.
Undersink water filters come in several formats. For the two most basic styles we have technical terms. We call them the standard and the simple.
The standard style uses an inlet device to tap into the undersink cold water pipe and send water to the filter. The filtered water is then delivered to the user by a dedicated faucet that serves nothing but unheated, filtered water.
The simple filter uses the cold water side of the regular sink faucet to dispense water. All of the cold water that goes to the sink is diverted through the filter and comes out as treated water.
These styles, with illustrations and a comparison chart, can be seen in the Occasional's "How It Works" series. The page gives a good rundown on the types of cartridges that are available for your undersink filter to address specific water issues.
In addition to the standard and simple styles, we also have special undersink models, like the carbon block Multi-Pure VOC stainless steel undersink filter, Pura ultraviolet undersink units for well water with bacteria, our Enhanced Performance Undersink Fluoride Removal Filter, a very popular undersink designed for maximum fluoride reduction. We also have undersink Add-On filters that make it easy to add an additional stage of filtration to your existing undersink filter or reverse osmosis unit.
Our Black and White Series of Standard Undersink Filters
Pure Water Products' basic Black and White undersink series includes single, double, triple, and now even quadruple undersink filters. All use top quality, heavy-duty parts. All are standard sized to make parts easy to find, and so tough that you should never need parts except filter cartridge replacements. Filter cartridges are the most common size made, the basic "10-inch filter" (9.75" X 2.5") sold everywhere.
The basic Black and White undersink units include a choice of our basic Tomlinson Pro-Flo faucet (top picture) or the Tomlinson
"Contemporary Value" faucet (bottom picture). Other styles and finishes are available on our faucet page. Black and White undersink units also come with an inlet valve appropriate for your situation. Fittings are all John Guest on Mur-lok quick connect. Push the tubing into the fitting and forget it. Everything is designed for easy installation and upkeep and long, dependable service. Installation is simply installing the faucet and the inlet valve, then pushing tubes into two quick-connect fittings. Full instructions are included.
All our Black & White single, double, triple and quadruple filters are mounted on brackets and can be either hung on the wall or stood in a secure undersink location.
Filter Cartridges
The great thing about a multi-cartridge filter is that you can get multiple stages of carbon, the essential ingredient in most water treatment strategies, plus the ability to add specialty media to deal with targeted problems. Multi-cartridge design allows the user to customize the treatment unit to suit his water. Thus, a well planned undersink filter can address chemicals of all types--from disinfectants added by municipal water suppliers, the by-products of these disinfectants, and extraneous chemicals that accidentally enter the water supply. With the right cartridges they can also deal with lead and heavy metals, fluoride, cysts, bacteria, and aesthetic issues like taste and odor and low pH.
The main cartridge ingredient of most undersink filters is activated carbon. Carbon is the preferred treatment, and sometimes the only treatment for most chemical contaminants, and it is unequaled at taste/odor improvement. In cartridges carbon can be in granular form or it can be made into high performance carbon blocks. Carbon filter technology is rapidly improving. Some of the high performance carbon units available today were not possible just a few years ago. We have carbon filters made with standard bituminous carbon, coconut shell carbon, and specially enhanced "catalytic" carbon as well as carbon mixed with KDF redox medium for chlorine and heavy metals reduction and with calcite for pH increase.
We also supply a good number of specialty cartridges, top quality "media" filters to reduce specific problem contaminants like nitrates, arsenic, and fluoride. (I would stress, however, that the best way to deal with arsenic, nitrates, and fluoride is with an undersink reverse osmosis unit. Reverse osmosis handles these contaminants by its nature and does not need special cartridges.)
Black and White undersinks give customers the opportunity to design their own filtration unit. By choosing a single filter cartridge or combining two, three or four cartridges from the many we offer, a unique treatment system can be created. Here are some of the more popular cartridges. All cartridges are in the standard 9.75" X 2.5" size.
I'm listing only ten of the fifty plus cartridges we stock in the size of our Black and White undersink units. Most of the rest are in our "Cartridge Menu."
When you buy a Black and White undersink unit, you can select from among all the cartridges in the Cartridge Menu. The price of the unit stays the same regardless of the cartridges you choose. Prices vary, of course, when cartridges are replaced.
| | | |
| --- | --- | --- |
| Part Number and Name | Filter Style | More Details |
| FC001 MatriKX "CTO Plus" (formerly call KX-1), | 0.6 Micron Carbon Block, Bituminous Carbon | High Chemical Capacity. Great Chlorine and Chloramine reduction. Our favorite carbon block and standard cartridge for single filters and double filters. Incredible 20,000 gallon chlorine reduction capacity. |
| FC002. MatriKX "VOC" (formerly called KX-5). | 0.6 Micron Carbon, Block, coconut shell carbon. | High Chemical Capacity. Great Chlorine and Chloramine reduction. Especially good at VOC reduction. A popular cartridge that makes great tasting water. |
| FC004. MatriKX PB-1. | 0.5 Micron Carbon Block with Heavy Metals Resin added. | High Capacity Chemical Cartridge, also removes lead and heavy metals plus cysts (giardia and cryptosporidium). A long-time favorite for single and double filters. |
| FC027. Pentek Chlor-Plus 10. | 1 Micron Carbon Block. | Pentek Chlor-Plus 10 one-micron Carbon Block, designed especially for Chloramine Removal. 2,500 gallons of chloramine reduction at 0.5 gpm--1,000 gallons at 1.0 gpm. |
| FC008. PWP KDF1.5 GAC | Granular Coconut Shell Carbon with 1.5 lbs. of KDF 55. | Our own KDF drinking water cartridge. Long-term dechlorination, lead reduction, and excellent taste/odor improvement. |
| FC011. PWP Fluoride Reduction Cartridge. | Granular Activated Alumina Cartridge, made with Resin-Tech's SIR-900 Fluoride Resin. | Our high quality fluoride cartridge made with the purest activated alumina. Also removes arsenic and lead. |
| FC026. Pentek CGAC-10 | Granular Carbon in Pentek's unique radial flow design. | Granular Carbon Chloramine Reduction Cartridge.  3,500 gallons of chloramine reduction at 0.5 gpm--1,750 gallons at 1.0 gpm. Also excellent for chlorine and chemicals in general.  |
| FC708. Doulton Imperial Super Sterasyl | Free-Flowing Ceramic Cartridge with granular carbon core. | Doulton Imperial Super Sterasyl open end cartridge. Large diameter Super Sterasyl—ceramic/silver outer shell with granular carbon core for chemical reduction and taste/odor improvement. Removes bacteria, cysts, chemicals. |
| FC020. PWP Centaur/KDF 85. | Super Problem Well Water Cartridge. | Our own granular cartridge designed for well water with sulfide and/or iron. Contains 1.5 pounds of KDF 85 (special iron/sulfide grade) with Centaur catalytic carbon, a specially designed carbon for sulfide/iron. |
| FC005. Flowmatic Arsenic Cartridge. | Granular Iron Oxide. | Flowmatic Iron Oxide Arsenic Removal Cartridge. Uses the safe and effective granular ferric oxide technology which is effective against both types of arsenic (Arsenic V and Arsenic III). The cartridge is rated for 1000 gallons of arsenic reduction at 0.75 gallons per minute. |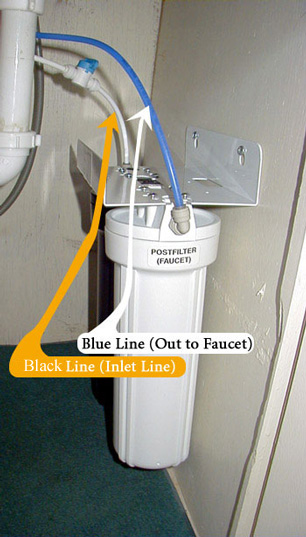 Above, a Black & White double undersink filter, installed. (Please don't write to tell us that the "Black Line" is really white.)
Undersink filters are simple , effective, and economical.The standard unit above with two MatriKX carbon block filters costs less than half as much as a Multi-Pure undersink and annual upkeep is $20 less. You'll love the water it makes!
Website References:
Simple (no faucet) undersink filters.
Black & White Standard Undersink (comes with faucet and inlet valve).
Multi-Pure undersink. Comes with the same faucet selection as the Black and White. See faucets above.
Pura Ultraviolet Undersink (faucet and installation equipment must be purchased separately).