Water News for December 2010
While visions of sugar plums were dancing in your head, a lot of important things happened in the world of water. Read on to find out more.
Beazer Homes USA, Inc., a national residential homebuilder, agreed to pay a $925,000 civil penalty to resolve alleged Clean Water Act violations at its constructions sites in 21 states. The violations involved stormwater runoff..
Researchers at the Univ. Of Colorado claim to have discovered an important low-energy way to desalinate waste water and produce hydrogen.

In Medford, OR, State health officials fined the Medford Water Commission $278,794 for discharging fish-killing levels of chlorinated water into a local creek. According to the report, "Chlorine is toxic to fish and other aquatic life, and the state Department of Environmental Quality determined the creek is mostly devoid of fish."
Florida sued the U.S. Environmental Protection Agency seeking to block new clean water regulations opposed by business and agriculture interests as well as some municipal utilities. The EPA's actions are aimed at reducing runoff from agricultural fertilizer and sewage treatment plant effluent.
The Multi-Pure Corporation celebrated its 40th year in the water treatment industry. It is one of the nation's top producers of carbon block filters.

More than 2,000 residents of the northern Swedish town of Ostersund became ill from the intestinal parasite Cryptosporidium after drinking water from the city's supply.
The water in almost 15,000 D.C. Homes in the Washington DC area that received repairs during a massive effort to remove lead pipes may still be contaminated by dangerous levels of the metal, according to a report released by the Centers for Disease Control and Prevention.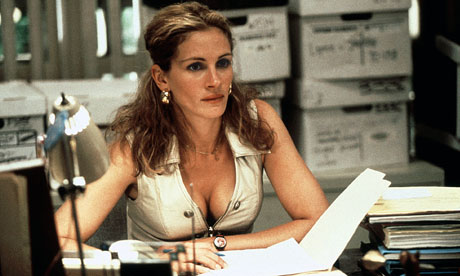 Those who saw the 2000 film Erin Brockovich will remember hexavalent chromium, also known as chromium-6, as the chemical spreading in a plume beneath the town of Hinkley, Calif., from a disposal site run by Pacific Gas & Electric. The company ultimately paid $333 million in damages for the contamination after a class-action lawsuit.
Read a lot more about Chromium-6 below.
The EPA took action against an energy company in Parker County Texas whose gas drilling operations were blamed for contaminating water wells. Although numerous complaints have been made against gas well drillers, the EPA action was the first of its kind for Texas. The Texas Railroad Commission, which regulates oil and gas, portrayed the action as an unwarranted federal intrusion into the state's business. The Texas Railroad Commission has been totally ineffective at curbing the abuses of gas drillers and has come to be regarded mainly as a state-sponsored servant of the oil and gas industry.
A pipeline rupture spilled 21,000 gallons of oil in Lockport, IL.

Men posing as water department employees stole an elderly lady's jewelry in Metrairie, LA.
Pennsylvania's Department of Environmental Protection ordered a Houston-based oil company to pay well owners $4.1 million in compensation for causing methane gas contamination to their wells.

Water sometimes does things we don't expect. See this demonstration of the "coalescence cascade." Also look at this view.
A bill before Congress would drastically reduce the lead allowed in plumbing fixtures and would reduce total lead exposure by 20%. "The bill would set federal standards for levels of permissible lead in plumbing fixtures that carry drinking water, with allowable lead content going from the current federal level of as much as 8 percent to 0.25 percent. It limits the amount of lead that can leach from plumbing into drinking water."
Results of a new study recently pre-published in Environmental Health Perspectives suggests that exposure to fluoride may lower children's intelligence, according to a press release.
Tree-ring research at the University of Arizona reveals that the American Southwest may be in for a "medieval drought" of alarming intensity.
Many of the delegates at the UN climate conference in Cancun, Mexico signed a petition to ban dihydrous monoxide-- a "key ingredient in climate change, acid rain and a chemical that is fatal if inhaled." (You'll have to read the brief article to learn more about deadly dihydrous monoxide.)
A study reported in Current Science indicates that fluoride can be a significant cause of anemia among pregnant women and subsequent pre-term birth. There's an excellent summary of the finding in Food Consumer.
Norman, OK was on top of the Environmental Working Group's list of cities whose tap water was found to contain chromium-6, "the Erin Brockovich chemical." Here's a full list of the cities in the report.
Broken pipes caused a painful water shortage in Northern Ireland during the last days of 2010.

The Contaminant of the Month: Hexavalent Chromium
From time to time there's a news story that starts phones ringing at water treatment businesses. In recent months the big topics have been "pharmaceuticals," chloramines and fluoride (perrineal favorites), MTBE, perchlorate, methane, and radon.
This month's hot issue is chromium, or more particularly hexavalent chromium, a.k.a. chromium-6. Chromium-6 was pushed into the spotlight by a study done by an environmental organization, the Environmental Working Group, which released results in December of studies it had conducted in 35 U.S. cities.

The EWG research got really big national attention when it was featured in a Dec. 19, 2010 article in the Washington Post. Actually, chromium-6 was already famous, having received public attention in 2000 through the Julia Roberts movie. How quickly we forget. Here's the major part of the Post article, in case you missed it:
Probable carcinogen hexavalent chromium found in drinking water of 31 U.S. cities
Washington Post Staff Writer
Sunday, December 19, 2010
An environmental group that analyzed the drinking water in 35 cities across the United States, including Bethesda and Washington, found that most contained hexavalent chromium, a probable carcinogen that was made famous by the film "Erin Brockovich."
The study, which will be released Monday by the Environmental Working Group, is the first nationwide analysis of hexavalent chromium in drinking water to be made public.
It comes as the Environmental Protection Agency is considering whether to set a limit for hexavalent chromium in tap water. The agency is reviewing the chemical after the National Toxicology Program, part of the National Institutes of Health, deemed it a "probable carcinogen" in 2008.
The federal government restricts the amount of "total chromium" in drinking water and requires water utilities to test for it, but that includes both trivalent chromium, a mineral that humans need to metabolize glucose, and hexavalent chromium, the metal that has caused cancer in laboratory animals.
Last year, California took the first step in limiting the amount of hexavalent chromium in drinking water by proposing a "public health goal" for safe levels of 0.06 parts per billion. If California does set a limit, it would be the first in the nation.
Hexavalent chromium was a commonly used industrial chemical until the early 1990s. It is still used in some industries, such as in chrome plating and the manufacturing of plastics and dyes. The chemical can also leach into groundwater from natural ores.
The new study found hexavalent chromium in the tap water of 31 out of 35 cities sampled. Of those, 25 had levels that exceeded the goal proposed in California.
The highest levels were found in Norman, Okla., where the water contained more than 200 times the California goal. Locally, Bethesda and Washington each had levels of 0.19 parts per billion, more than three times the California goal.
The cities were selected to be a mix of big and smaller communities and included places where local water companies had already detected high levels of "total chromium."
"This chemical has been so widely used by so many industries across the U.S. that this doesn't surprise me," said Erin Brockovich, whose fight on behalf of the residents of Hinkley, Calif., against Pacific Gas & Electric became the subject of a 2000 film. In that case, PG&E was accused of leaking hexavalent chromium into the town's groundwater for more than 30 years. The company paid $333 million in damages to more than 600 townspeople and pledged to clean up the contamination.
"Our municipal water supplies are in danger all over the U.S.," Brockovich said. "This is a chemical that should be regulated."
Max Costa, who chairs the department of environmental medicine at New York University's School of Medicine and is an expert in hexavalent chromium, called the new findings "disturbing."
"At this point, we should strive to not have any hexavalent chromium in drinking water" or at least limit the amounts to the level proposed by California, Costa wrote in an e-mail.
Hexavalent chromium has long been known to cause lung cancer when inhaled, but scientists only recently found evidence that it causes cancer in laboratory animals when ingested. It has been linked in animals to liver and kidney damage as well as leukemia, stomach cancer and other cancers.
The American Chemistry Council, which represents the chemical industry, says the California goal is unrealistic because some water supplies have naturally occurring hexavalent chromium that is higher than .06 parts per billion.
In a written statement, the group's senior director, Ann Mason, said that "even the most sophisticated analytical methods used by EPA are not able to detect the extremely low levels that California wants to establish."
The group supports a "uniform, national standard for hexavalent chromium in drinking water, based on sound science," Mason wrote. "Research is underway to provide EPA with critical data that will allow for a more informed risk assessment of hexavalent chromium. This data will be complete by mid-2011. Given the potential impact on drinking water supplies, EPA should incorporate this data in its assessment."
Brendan Gilfillan, an EPA spokesman, said that the agency was aware of the new study by the Environmental Working Group and that the findings will be considered as the agency reviews total chromium in drinking water, work that is expected to be completed next year.
Ken Cook, president of the Environmental Working Group, said that water utilities across the country are resistant to the regulation.
"It's not their fault. They didn't cause the contamination. But if a limit is set, it's going to be extraordinarily expensive for them to clean this up," Cook said. "The problem in all of this is that we lose sight of the water drinkers, of the people at the end of the tap. There is tremendous push-back from polluters and from water utilities. The real focus has to be on public health."


"Most of the time no one is watching most of the water for most of the contaminants."

by Hardly Waite

Actually, what's new with the hexavalent chromium issue isn't that Chromium-6 has suddenly been spilled into US water supplies. What's new is that someone told us about it.
Chromium-6 is only one of countless chemical contaminants that find their way into water but don't get much public attention. In the 1980s I read a perceptive article on the subject that said, "Most of the time no one is watching most of the water for most of the contaminants." In 2010 there's a lot more to watch for, since new chemicals are being created almost faster than we can give them names, yet we continue not watching.
News about water quality comes and goes in the public mind. Ralph Nader made shocking revelations about water quality in the 1980s, but people soon forgot. The public has a short attention span.
Chromium-6 didn't just appear suddenly in the water supplies of 31 of the 35 cities examined. It has been there a long time. The news is that someone went to the trouble to look for it and report it. Actually, it had been looked at earlier by government agencies, but they were happy to keep its presence to themselves as long as no one brought the subject up. This isn't an uncommon event. Just this month the FDA revealed (after much prodding) that US agribusiness now drugs farm animals with 29 million pounds of antibiotics per year. Most people are aware that factory farm animals are being dosed with antibiotics and that consequently antibiotics are becoming ineffective, but the 29 million pound number is somewhat sobering. (A "shitload," Grist calls it.) Does anyone doubt that a few tons of these drugs make their way into water supplies?
Chromium is present in water as trivalent and hexavalent chromium. The problem is that trivalent chromium is not only harmless but is an essential human nutrient. Hexavalent chromium is a potent poison. The state of California, which is usually about 20 years ahead of the rest of the country in environmental regulation, is proposing a maximum allowable of 0.06 parts per billion hexavalent chromium. The EPA is currently monitoring total chromium with a maximum allowable of 100 parts per billion.
Here is the EPA's statement on chromium, which was issued after it received criticism for dragging its feet on the regulation of chromium-6:
"EPA absolutely has a drinking water standard for total chromium, which includes chromium-6 (also known as Hexavalent Chromium), and we require water systems to test for it. This standard is based on the best available science and is enforceable by law. Ensuring safe drinking water for all Americans is a top priority for EPA. The agency regularly re-evaluates drinking water standards and, based on new science on chromium-6, had already begun a rigorous and comprehensive review of its health effects. In September, we released a draft of that scientific review for public comment. When this human health assessment is finalized in 2011, EPA will carefully review the conclusions and consider all relevant information, including the Environmental Working Group's study, to determine if a new standard needs to be set.

Background:

Currently, the total chromium standard is 0.1 mg/L (100 parts per billion).
Our latest data shows no U.S. utilities are in violation of the standard."
Now, to give an idea of how close to agreement are the two expert views—the California standard vs. the EPA standard—notice first that the EPA is measuring "total chromium" and California is measuring only chromium-6. Note, too, in case you haven't, that the allowable numbers are not even in the same galaxy.
To sort all this out, image that, since we know that our potato chip intake should probably be limited, you consult a nutritional expert to find out how many bags of potato chips you can safely eat each month. His answer is one. You then consult a second expert whose answer is that you can safely eat a combined total of 1667 bags of potato chips and apples. The experts then take a survey of Americans' eating habits. Expert #1 finds that 31 in 35 are violating the one bag per month standard for potato chip consumption, but expert #2 concludes that all is well because "no Americans are violating the combined potato chip and apple standard" by eating 1667 per month. By standard 2 you can safely eat 55 bags of potato chips (and no apples) per day.
That's no more absurd than the advice we're getting from the combined wisdom of California regulators and the EPA. The numbers are radically different and they're counting different things.
The official allowable for chromium-6 will, after months or years of negotiation, eventually be set most likely somewhere between the extremes of 0.06 ppb and 100 ppb. The number will not be arrived at scientifically but will result from a political negotiation that considers the interests of manufacturers and sellers of products that use chromium, city water departments, environmental advocacy groups, wastewater processors, and a host of politicians who represent the interests of a host of lobbyists who are being paid by everyone from mining companies to state governments.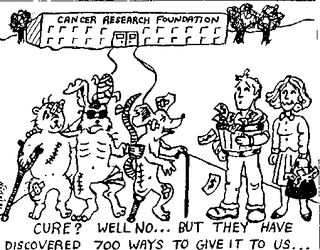 Each of these non-expert entities will employ its own set of experts who will rely mainly on the mysterious "science" of animal studies to prove its point. Animal studies, a science of roughly the same exactitude as having soothsayers examine the intestines of sacrificed goats, will conveniently prove what each of the interested parties wants proved. The final magic number, the amount of chromium-6 we can safely be exposed to, will depend mainly on the number of Republicans vs. Democrats on the committee.
How do you remove chromium-6 from water?

The answer to this question is fairly easy. Reverse osmosis and steam distillers remove chromium-6 effectively from drinking water. For larger point of entry applications, anion exchange is effective, but there are complications that make it impractical for most residential use. (Anion exchangers are water softener-like devices. They work like softeners, but have a different type of resin.)

The old standby, carbon filtration, is not an effective treatment for chromium. It removes chromium, but doesn't hold it reliably. A quick web search showed that a few websites selling simple filtration devices are already making chromium-6 reduction claims. One ceramic filter with a core of carbon and lead removal resin makes an unqualified statement that it removes chromium-6. Here's a quote from another, selling a double filter using activated alumina fluoride medium, carbon, and KDF.

"ALL OF OUR KITCHEN CANISTER FILTERS will filter hexavalent chromium (also known as chromium 6. Folks, don't wait until you are frightened by some particular contaminant proven to be in the drinking water. We know for a fact there are hundreds of them. Get quality kitchen filters that work on all the categories of contaminant."

Unfortunately, there isn't a "kitchen filter that works on all the categories of contaminant." The nearest thing to it, though, is reverse osmosis.

How Static Mixers Work
by Pure Water Annie
Editor's Note: The Pure Water Occasional's website has a growing section of "how it works" articles that describe the mysterious inner secrets of common water treatment devices. The current article is the most recent addition. The pictures were contributed by a customer whose curiosity led him to cut apart a "static mixer" to see what made it tick. The workings of the static mixer are revealed below in Pure Water Annie's article (which she lifted from the website), so you can now cross the static mixer off your list of the world's unexplained wonders. Go here to learn the secrets of additional water treatment devices-.-Hardly Waite.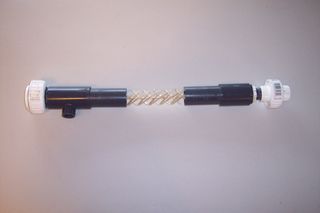 A "static mixer," often called an inline mixer, is a device used frequently in water treatment to create an injection point for chemicals like chlorine and soda ash into a water line. Its purpose is to create turbulence that enhances the rapid mixing of the injected chemical into the water stream. Use of the static mixer can greatly reduce the need for storage tanks following the injection point.
The picture above is a cutaway made to expose the inner workings of the mixer. It's a simple device. The service flow of the water is from left to right in the picture. The chemical is injected through the threaded pipe extension on the left of the mixer body. As water passes through the mixer, it is churned by the metal baffles seen in the picture and the chemical is mixed with the water.
The advantages of using the mixer include reduced residence time requirement and improved performance of the injected chemicals. Disadvantages can be reduced water flow due to restriction and clogging caused by mineral buildup within the device.
Static mixers are also frequently called inline mixers.
Take the Plunge on New Years Day
A water event you shouldn't miss if you're in Rhode Island on January 1
At nearly a dozen Rhode Island beaches on New Year's Day, you'll find people plunging into the icy water.
Here are some places you might want to go:
Block Island: The New Year's Day Polar Bear Swim is at noon at Fred Benson Town Beach on Corn Neck Road. There will be a bonfire on the beach; T-shirts and hot chocolate will be on sale.
Cranston: The Rhode Island Yacht Club, 1 Ocean Ave., conducts its 5th annual Penguin Plunge.
Galilee: The 20th annual Bucks for Scups swim is at noon at Salty Brine Beach off Sand Hill Cove.
Jamestown: The 35th annual Penguin Plunge is at noon at Mackerel Cove.
Little Compton: The Penguin Plunge is at noon at South Shore Beach, off South Shore Road.
Matunuck: The 12th annual Dip for Multiple Sclerosis, hosted by Tara's Joyce Family Pub, 907 Matunuck Beach Rd., takes place at noon.
Narragansett: The Pier Plunge at Narragansett Town Beach is at noon, with registration at the Canonchet Pavilion/North Beach Clubhouse at 10 a.m.
Newport: The Newport Polar Bears conducts its 32nd annual plunge at noon at Easton's Beach on Memorial Boulevard, followed by an after-swim party at the Atlantic Beach Club.
North Kingstown: The 38th annual Polar Bear Plunge is at 1:30 p.m. at the North Kingstown Town Beach.
Warwick: The third annual Seawall Splash is at noon at Oakland Beach.
Westerly: The fifth annual Freezin' for a Reason Penguin Plunge is at noon at Misquamicut Beach.
Full details for these events.
Suggested reading this month from the Pure Water Gazette's archive: Debating how much weed killer is safe in your water glass by Charles Duhigg.
Model 77: "The World's Greatest $77 Water Filter"
Sprite Shower Filters: You'll Sing Better!
An Alphabetical Index to Water Treatment Products
Occasional's Fair Use Statement
Please Visit