Simple filters of this type can normally be installed as either upflow or downflow filters simply by changing the direction of flow inside the tank. The picture above shows an upflow installation. Water enters the tank head and is sent down the center tube to be released at the bottom of the tank. It slowly works its way upward through the media to the top of the tank where it exits the filter.
In the downflow version, water enters the media at the top and filters down through the media bed to the bottom, where it enters the bottom end of the riser tube and is sent back to the top and out to the home.
In/Out filters are inexpensive as compared with backwashing filters. Their simplicity also makes them attractive alternatives to backwashing filters in many situations. Their use is limited, however, mainly to use as dechlorinating filters for city water and for neutralizing filters for acidic well water. Plus, the water they treat must be clean, so it's wise to always install a sediment filter in front of an in/out filter.
In/Out filters do not work as iron filters, because a backwash function is needed to get rid of the trapped iron. Likewise, they do not work as sediment filters and must, as noted, be protected from sediment when they are used as city water dechlorinating filters or as neutralizing filters for wells.
In/Put filters actually have an advantage over backwashing filters for city water dechlorination in that more media can be loaded into the tank since freeboard space does not have to be left at the top of the tank to accommodate backwashing. For example, a 10" X 54" backwashing filter can be loaded with 1.5 cubic feet of carbon, but a 2.0 cubic foot bed works well in an In/Out filter.
In most filter designs, with simple filters like those shown on this page, a downflow filter can be installed as an upflow filter simply by reversing the direction of flow into the tank.
In/Out vs. Conventional Backwashing Filters
| | In/Out Filter | Automatic Backwashing Filter |
| --- | --- | --- |
| Cost | Less expensive. No automatic control valve needed. | Costs more because of the expensive control valve. |
| Ease of installation. | No drain connect needed. No electrical connection. | Needs drain and electricity. |
| Size | Can be sized slighly smaller because the tank can be loaded almost to the top. | Top third of the mineral tank must be left empty ("freeboard space") to allow backwash. |
| Versatility | Limited to carbon (dechlorinaton, dechloramination) and calcite (pH increase) applications. (This style is also used for scale prevention units, which really aren't filters.) | Can be used for anything: chlorine and chloramine reduction, iron/manganese, sediment, hydrogen sulfide, pH increase. |
| Pretreatment Requirment | Should always be preceded by at least a 5 micron sediment filter. | Requirement depends on usage. For clean city water, a sediment filter is optional. |
| Service Flow per Tank Size | For chlorine/chloramine reduction, slightly higher because the tank holds more carbon. | For chlorine/chloramine reduction, slightly lower because the tank holds less carbon. |
| Maintenance Requirements | Less maintenance because there are no moving parts. For chlorine/chloramine treatment, media change is usually less frequent because the tank holds more media. | Normally trouble free, but control valves eventually require service. |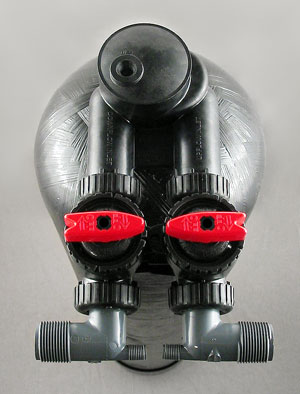 Sturdy Clack In/Out Head with Bypass. The red handles allow for easy diversion of water around the filter. Installation is easy. No drain or electrical connection needed.