Water News for December 2012
While you were hanging colored balls on a dead tree in your living room, a lot of important things happened in the diverse and interesting world of water. Read on to hear all about it.
Some 94,000 Water-Absorbing Toys Sold in the US Are Life-Threatening
A recall was announced in mid-December 2012 of water-absorbing toys which the U.S. Products Safety Commission says can cause death to children.  The toys grow to 400 times their original size in water.  When swallowed they can cause vomiting, dehydration and even death.
Since the toys do not show up on an x-ray,  surgical removal may be required. An 8-month-old Texas girl who swallowed a toy required an operation.
The recalled toys include Water Balz, Growing Skulls, H2O Orbs from the movie "Despicable Me," and Fabulous Flowers. Over 94,000 toys were sold in the U.S.
Some of the retailers and websites who sold the expandable toys are:
Bed Bath & Beyond, Five Below, Hobby Lobby, Lakeshore Learning Materials, Microcenter, Urban Outfitters Direct and Wegmans, amazon.com, incrediblescience.com, keyporthobbies.com,  americantoystores.com,  and  Universal Studios.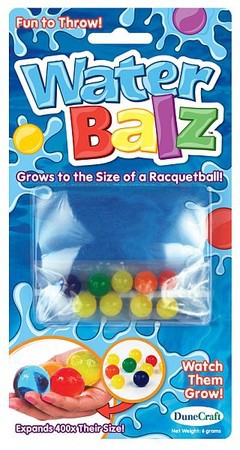 When swallowed, toys expand to 400 times their original size and can require surgical removal.
The Main Source of Mercury Ingested by Humans Is Tuna
According to an extensive new report called "Sources to Seafood: Mercury Pollution in the Marine Environment," mercury pollution near the ocean's surface has more than doubled as a result of human activities over the last century.
The mercury we ingest is largely invisible, but it becomes a human problem when it enters our bodies when we eat seafood.  It is especially harmful to babies born to women exposed to mercury, causing cognitive or developmental problems.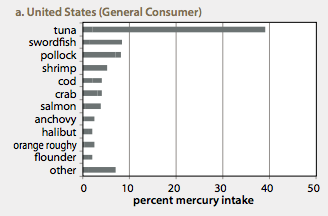 As the chart illustrates, tuna is by far the largest contributor to mercury poisoning in humans.    Americans get most of their mercury from tuna, largely because it is the most affordable option.
Where Does The Mercury In the Ocean Come From?
By far the greatest part of the mercury that goes into the open ocean is from atmospheric emissions, which comes from fossil fuel burning. Coal-fired power plants are the biggest source, globally.  Also,  on coastal areas like Maine, the Gulf of Mexico, and San Francisco Bay, much of the contamination comes from industrial sources, especially mining operations. As for regions of origin of mercury in the seas, the U.S. is not the largest contributor of atmosphere mercury.  Asia as a continent now far exceeds North America and Europe in mercury pollution.
Fortunately, if mercury emissions can be brought under control, mercury content of fish should go down accordingly.
A Good Rain Pours 100 Rose Bowl Stadiums' Worth of Nasty Water into Santa Monica Bay
Editor's Note.  The piece below is excerpted from an LA Times article by Mathew King, who is communications director for Heal the Bay, a Los Angeles environmental group founded in 1985 to stop the dumping of raw sewage into Santa Monica Bay.
Even if you're not a surfer, you have reason to be concerned about polluted storm water. Rimmed by foothills and mountains, Los Angeles County is like a giant bowl tilted toward the sea. When it rains, water rushes along paved streets, picking up trash, fertilizer, pet waste and automotive fluids before heading to the ocean via the region's extensive storm drain system. A single typical day of rainfall spews an estimated 10 billion gallons of runoff into Santa Monica Bay, untreated and unchecked. That's the equivalent of roughly 100 Rose Bowl stadiums'worth of dirty water. It's little wonder the county claims seven of the 10 most polluted beaches in the state.
This is not simply a public health issue; it's also a huge waste of a precious resource. Los Angeles imports costly and increasingly scarce water from Northern California and the Colorado River. Storm water — if held, filtered and cleansed naturally in groundwater basins — could provide a safe, more secure and less costly source of drinking water.
The county now has a chance to address the problem. This month, notices have gone out to county property owners about a proposed storm water fee. Most single-family residential parcels would be assessed $54 per year, and the money — about $270 million annually — would be used for innovative infrastructure projects to capture and reuse storm water. On Jan. 15, the county Board of Supervisors will hold a hearing on the issue, after which an election by mail is likely.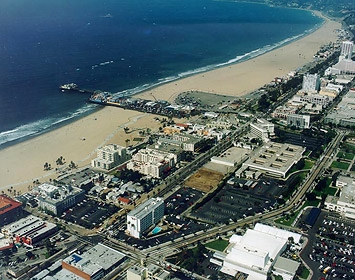 "A single storm can sweep billions of gallons of polluted runoff directly into Santa Monica Bay. Contact with this bacteria-laden storm water can lead to a variety of unpleasant ailments, from upper-respiratory infections to severe gastroenteritis."– (Los Angeles Times)
Some opponents are already crying about hidden taxes, but this measure is more rightly viewed as a sound economic investment. Funds raised will enable municipalities to develop multi-benefit wetlands, parks and open spaces that can recharge groundwater supplies, saving money in the long run. Thousands of local jobs in the construction, engineering and landscaping industries will be created. Reclaimed storm water will irrigate neighborhood parks, ball fields and school grounds instead of fouling rivers and beaches.
An advisory committee of property owners and members of the public, appointed by the supervisors, would approve project plans and oversee the funds. Fees could not be raised nor diverted to any other use.
Surfers like me often do dumb things. But Los Angeles County can be smart about storm water. Let's stop pouring money, and bacteria, down the drain.
Please read more about Heal the Bay's many projects and activities aimed at protecting the Santa Monica Bay.
Matthew King is communications director for Heal the Bay.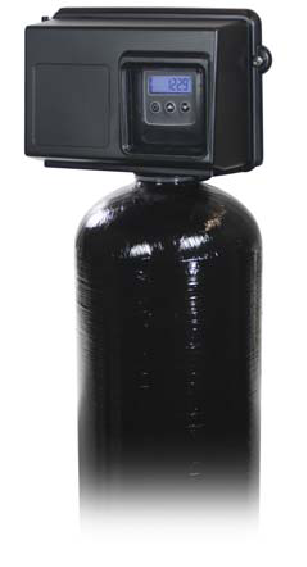 Available Now--Coming Soon to our Main Website
We've been selling single-tank aeration/filtration units for treatment of iron and hydrogen sulfide for almost two years. . Early next year we'll be putting up an expanded offering of these excellent systems on our main website.

We're now offering six models of single tank aeration/filtration units that draw in air during their regeneration cycle. No pumps or external venturies are needed. We initially sold these only with Birm and/or Centaur catalytic carbon, for iron and hydrogen sulfide treatment. Early next year our main website will offer a Birm only version for light iron problems, a catalytic carbon version for odor plus a small amount of iron, a Filox version for heavy iron and odor problems, and a calcite version to pre treat low pH water in front of an iron filter.
We pre-program the 2510 SXT controller (see picture above) before shipping, so installation and setup are extra easy.This is the most user friendly aeration/filtration treatment system we know of.
Water News of the Month
Below are links to December's posts in the Pure Water Gazette's "Today's Top Water Stories" section. A few are included in this newsletter. Reading the Gazette's daily posts will make you wiser and probably more beautiful.

Sanitizing Reverse Osmosis Tanks Doesn't Have To Be Complicated

by Pure Water Annie

Pure Water Gazette Technical Wizard Pure Water Annie Explains How To Keep Your RO Tank Spic and Span Without High Tech Tools
Reverse Osmosis Tanks Can Be Sanitized Without Special Tools
Sanitizing the storage tank of small, undersink reverse osmosis units doesn't have to be a high tech procedure.  It's simply a matter of getting some common household bleach into the tank and giving it a little time to work. To do this procedure, you'll need some standard household bleach and an eyedropper.
1. Turn off the inlet water to the RO unit, lock the ledge faucet open and allow all the water to run from the storage tank.
2. When no water is coming from the faucet, turn off the valve at the top of the storage tank, remove the tube from the tee that connects the tank to the RO unit.  (Not from the tank end, but the other end of the tube.)
3. Shake as much water as you can from the tube and use an eyedropper to drop as much bleach as you can into the empty tube.  A few drops is plenty.  Careful–bleach can be messy.
4. Reconnect the tube to the tee, being careful not to allow the bleach to run from the tube.
5. Open the tank valve, close the ledge faucet, and turn on the inlet water to the RO unit. Allow the RO unit to fill the tank. This will take at least a couple of hours. As the tank fills, the bleach is swept into the tank.
6. Do not use the water for at least 3 hours after the tank is full.  Letting it sit overnight is best.
7. After you have given the bleach sufficient time to work, start using the unit.  You do not need to drain the tank.  The unit's post filter will remove the bleach from the water.
Note that this procedure sanitizes the storage tank only.  Sanitizing other parts of the unit is a more complicated issue.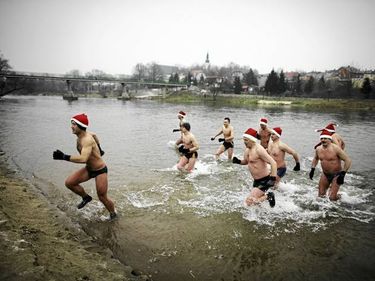 December 23, 2012: People take part in an annual Christmas bath in the Warta river, with the outdoor temperature reaching 10 Celsius below zero in Uniejow near Lodz central Poland. Cold water swimming is getting popular worldwide.
Read the Gazette's full story to find a cold water swimming event near you.
Click Picture for a Larger Image.
| | |
| --- | --- |
| Really Good Water Stories Are Hard to Find, But There Are Lots of Pretty Good Ones. | |
 Pretty Good Water Stories
by Hardly Waite
Gazette Senior Editor
Back in the olden days when the Pure Water Gazette was written with a typewriter and printed on paper, I had to look for water stories wherever I could find them. This usually meant going through magazines and newspapers and an occasional book.  Articles about water were hard to find.
Now, with the help of automatic searches, the opposite is true.  In fact, just by subscribing to a few key search items in Google Alerts I get more submissions every day than I can look at. Unfortunately, most of the random finds made by Google as it crawls the web looking for "water articles" or "water treatment" or "water news" are what you would expect of a robot.  There are lots of stories like "large snake killed on road near Sapulpa water plant," or "Minot council votes to postpone water rate hike."  Then there are slightly more interesting stories that get picked up and repeated ad infinitum like this month's U Tube posting of a young man in Siberia throwing a pan of boiling water from an apartment building balcony to demonstrate that it turns to snow before it reaches the ground.
Here are, in brief, some pretty good stories—not the best or the worst—that I came across during this December of 2012.
Around 400 U.S. motorists die each year from drowning when their vehicle plunges into water. To help eliminate being restrained in a submerged car, a new seat belt mechanism has been designed to make sure that occupants can extract themselves quickly and safely when underwater.
Recruits at a South Texas military base were forced to fill their canteens from a toilet.
Gangs of thieves in Philadelphia perform daylight robberies by pretending to be water department employees.
According to Huffington Post,  a new Brita-style pitcher filter  named Soma (after ". . .a mystical drink to help warriors overcome their fears in battle or poets to find their inspiration. . .") will come on the market soon if investors can be found.  Its distinction is that it is recyclable, being made from ". . . Malaysian coconut shells, . . . vegan silk and . . . plant-based PLA composite."  A unique marketing plan includes a subscription service for cartridge replacements.
Harrison Enright was named boys water polo player of the year by Mercury News.  Jamie Nolan was named girls water polo player of the year.
With a growing population and a drought that seems intent on hanging around, the most critical issue for Oklahoma City in 2013 may be securing access to an important source of drinking water. The city is involved in a water rights court battle with the Choctaw and Chicasaw tribes over water rights for a large area of southeastern Oklahoma.
A video was released in December of what is being called the largest iceberg calving event ever caught on tape.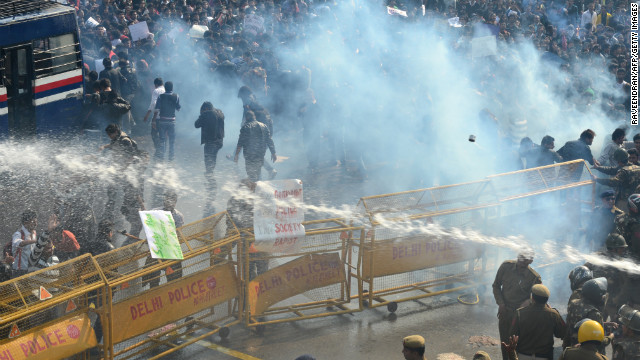 Police in New Delhi blasted protesters with water cannon and tear gas as clashes broke out at a rally against rape, leaving scores of people drenched and angry. More Information about the New Delhi protests.
Residents of Orange Cove, CA were warmed against drinking tap water for an indefinite period because nitrate levels in the city's water tested nearly double the EPA allowable.    (An undersink reverse osmosis unit would easily take care of the nitrates.)
A genetically-modified salmon which grows twice as fast as ordinary fish could become the first genetically-modified animal in the world to be declared officially safe to eat. America's powerful FDA ruled it posed no major health or environmental risks. The GM Atlantic salmon is engineered with extra genes from two other fish species.  Read details in the Guardian.
Hollywood is getting a new water tower.
Tokyo Electric Power Co. is seeing a delay in starting operation of a new water treatment facility that can remove more radioactive substances than the one currently being used at the crippled Fukushima Daiichi nuclear power plant.  The plant is an effort to deal with a massive amount of contaminated water created as a result of continuing water injection into the damaged reactors.
In HCM City, city authorities have mandated the use of new state-of-the-art waste water treatment systems at 324 medical stations.  Medical authorities are complaining that the water treatment systems are not only extremely expensive but are largely unneeded.  It is estimated that every waste water treatment system at medical stations costs 400-500 million dong.
At a "Water For Children" event staged for Greenpeace China,  artists painted water treatment devices onto the bodies of children,  as a metaphor for their bodies having to process water from polluted water sources in some areas of China.
Most water-saving showers save water by making the holes on the head smaller but this often means your shower doesn't feel as cleansing, as you end up with a fine mist instead of a proper shower. A new shower head called Air-In-Shower  aerates the water to make the water droplets larger. In layman's terms, it fills the water droplets with air so that you're not using as much water as a regular shower but the volume of the water shouldn't feel lower.   The manufacturer claims a 35% saving in water.  The maker of the Air-in-Shower is Toto.
The Bureau of Land Management, in a very controversial decision, approved the plan for a 264 mile pipeline to carry billions of gallons of water to thirsty Las Vegas from rural counties along the Nevada-Utah line.
EPA administrator Lisa Jackson announced her resignation.
Bad Water Stories
We'll end the year with a few examples of bad water stories. Using these is really scraping the bottom of the water barrel.
A man in Converse, TX got a $12,000 water bill, but then the city changed it to $180.
A new product called Dream Water promises to help you sleep after flying.  Ingredients:  Melatonin, GABA, 5HTP and a few other things, in a 3-ounce serving.  Price: $38.99 per six pack.
Justin Bieber tossed a bottle of water at Miami paparazzi.
According to the Collinsville News,  a beautiful and well-behaved dog is thought to have recently been abandoned at the Collinsville Water Treatment Plant. Plant workers discovered the dog several days ago and the dog appears to have been well taken care of.
And finally, the absolute worst water story of the year:
You can cool hot soup quickly by stirring it with a frozen plastic water bottle.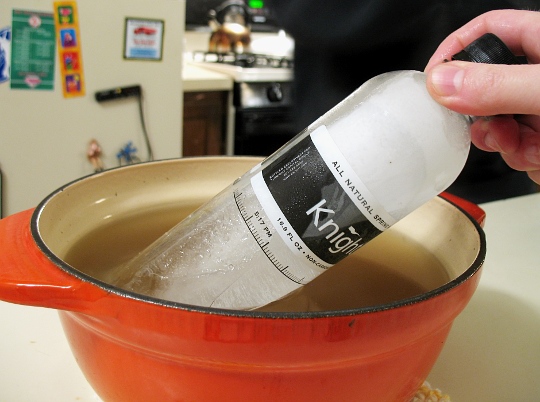 The Pure Water Gazette's Pick for Worst Water Story of the Year. If the three bears had known this trick, there would have been no story.
---
| | Numerical Wizard Bea Sharper ferrets out the watery facts that Harper's misses |
| --- | --- |
Facts You Would Have Learned Had You Read This Month's Top Water Stories Articles in the Pure Water Gazette. Aren't you ashamed that you didn't?
Age of Besse Cooper, who died in December of 2012 -- 116.
Number of significant medical studies that have found that children living in areas where water is fluoridated have lower IQ scores than children from non-fluoridated areas--36.
Projected increase in the number of water-consuming Texans between 2010 and 2050 -- 25 million to 55 million.
Number of Americans who have at least one food allergy -- 7.5 million.
Percentage by which food allergies increased between 1997 and 2007 --18%.
Number of years an artificial Christmas tree must be used to make its environmental impact equal to that of a "real" Christmas tree -- 20.
Fraction of US winter food crops that are grown with irrigation water from the Colorado River -- 1/3.
Low temperature at the cite of this year's (Dec. 23) annual Christmas Bath in Poland's Warta River-- minus 10 C.
Water temperature at which residential reverse osmosis membranes are rated -- 77 F.
Inlet pressure at which residential reverse osmosis membrane are rated -- 60 psi.
Number you multiply by to convert milliliters per minute to gallons per day to figure reverse osmosis production rates-- 0.38.
Gallons of fresh water accidentally lost by an El Paso County fracking operation -- 1.8 million.
Number of households this water would supply for a year -- 54.
Percentage of Americans' mercury intake that comes from eating tuna -- almost 40%.
Number of years that medical authorities used and recommended bloodletting as an effective treatment --2500.
Size increase of some water-absorbing toys when placed in water (or a child's stomach) -- 400 times.
According to the UN, the number of people worldwide who are suffering from water scarcity -- 700 million.
According to the Minnesota Department of Health, the amount being charged by many "high pressure" sellers of water treatment equipment for $1,000 worth of equipment -- $6,000.
Approximate number of US motorists who die each year from drowning -- 400.
According to the Mercury News, the rank of Jamie Nolan among girls' water polo players -- #1.
Age of the New Delhi woman whose rape (and subsequent death) sparked massive protests which police sought to control with powerful water cannons--23.
Water saving claimed by the maker of a new aerating shower head -- 35%.
Length of a controversial water pipeline recently approved to transport water to Las Vegas -- 264 miles.
Number of Rose Bowl fulls of water that are dumped into Santa Monica Bay by a good rain-- 100.
Number of gallons -- 10 billion.
Number of California's ten most polluted beaches that are in Los Angeles County -- 7.
"Water Footprint" of the average modern Californian-- 1500 gallons per day.
Pure Water Gazette Now in a New Format
Our information-stuffed variety magazine, the Pure Water Gazette, has taken another turn. The Gazette started as a paper publication in the 1980s. The last paper issue was mailed in 1997. It has existed since as an information-rich website whose navigation and aesthetic properties were suffering from years from neglect. Although the old site can still be seen here, the best of the old content has been relocated to a much more manageable and search-friendly blog-style format. The new site is up and running as a work in progress with over 400 articles and many more to come. At least one new article is added each day. The new site is at the old location, http://www.purewatergazette.net. Please visit!