Water News for January 2013
While you were settling back into your routine after the holidays, a lot of important things happened in the diverse and interesting world of water. Read on to hear all about it.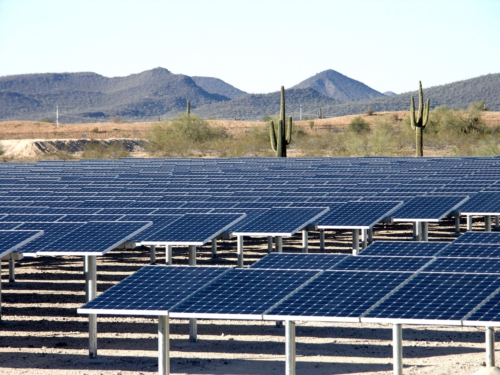 This new 7.5-megawatt SunPower solar power system is expected to save the City of Phoenix $4.2 million in energy costs over the next 20 years.
Phoenix's Lake Pleasant Solar Powered Water Treatment Plant To Produce 15 Billion Gallons of Water Per Year
Phoenix's new Lake Pleasant Water Treatment Plant will use the power of the sun to produce 15 billion gallons of tap water per year.  The highly efficient solar system that powers it is expected to generate 70 percent of the the plant's total power needs. Compared with conventional electricity, it will save the city $4.2 million in power costs over the next 20 years.
According to estimates provided by the U.S. Environmental Protection Agency, the system is expected to offset the production of more than 9,000 tons of carbon dioxide per year, which is equivalent to removing almost 35,800 cars from Arizona's roads over the next 20 years.
Phoenix is the logical place for a solar application, with 300 days of sunshine per year.
Barges Holding 10,000 Barrels of Fracking Brine May Soon Invade the Nation's Rivers
by Hardly Waite
The plans of a Texas company called GreenHunter Water are now on hold while federal authorities investigate the wisdom of hauling tens of thousands of gallons of toxic fracking brine to Ohio's 179 disposal wells.
The US Coast Guard is delaying the project until a decision is made on the nature of fracking waste, which environmentalists contend is a toxic material that is too dangerous to transport by river barge.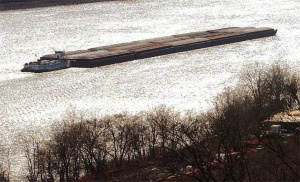 This giant brine barge can haul as much toxic waste as 1050 trucks. Environmentalists question the wisdom of allowing such massive waste dumps to lumber down America's rivers..
The Columbus Dispatch explains:
Barges add a new wrinkle to the flood of waste fluids washing into Ohio from the thousands of natural-gas wells drilled into Pennsylvania's Marcellus shale.
Drillers rely on fracking, a process in which millions of gallons of water, sand and chemicals are pumped underground to shatter the shale and free trapped gas. A similar fracking boom is under way in Ohio's Utica shale.
Some of the fracking fluid bubbles back up, along with saltwater trapped underground for millions of years. The brine contains spent fracking chemicals, high concentrations of salt and naturally occurring metals and radium.
Millions of barrels of waste are injected back underground in Ohio disposal wells. State records show that 12.2 million barrels of fracking waste and brine were injected in the first half of 2012, 56 percent of which came from Pennsylvania and West Virginia.
Before 2010 Pennsylvania brine was being dumped into streams by sewage-treatment plants.  A court decision in Pennsylvania ended the practice, and there are only a few federally regulated disposal wells in the state, so Pennsylvania's fracking brine is now being exported to Ohio for disposal.  Ohio has 179 regulated disposal wells.
The Dispatch continues:
Much of the brine comes in tanker trucks that can hold 80 to 150 barrels, [and] GreenHunter wants to use a tanker barge that can hold 10,000 barrels. The company's website says the storage tanks at the New Matamoras terminal can hold as much as 70,000 barrels . . . .  One barge can haul as much as 1,050 trucks.
Environmental advocates question the safety of the practice and worry that a barge carrying brine could run into a bridge or another vessel and break apart. They point out that the Ohio River provides drinking water, and to endanger it by allowing the barge transportation of a hazardous waste is unwise.
Reference source:  The Columbus Dispatch.
A Good Test Should  Be Done Before Fracking Begins As Legal Protection: Before and After Testing Is the Best Legal Strategy for Well Owners
In order to establish legal footing for a future claim for damage to a well caused by fracking, it is essential to establish the condition of the water before fracking occurred.   There is no way to do this except with a high-quality test, prepared especially for fracking damage verification, which is administered correctly.  This usually means that a third party must collect and submit the sample.   Making a claim against an oil company by saying "the water used to be good but now it's awful" isn't likely to get you anywhere.  A comprehensive before and after test carries much weight as a bargaining tool and as a basis for legal action.
The following advice is from Water Quality Magazine:
With all the controversy surrounding the gas drilling business that utilizes hydrofracturing, also known as fracking, it is important to get the correct test performed by a certified laboratory. National Testing Laboratories is certified in the states in which fracking is occurring and has formed partnerships with other certified laboratories to meet the needs of its customers. The company has several packages, some geared toward state recommendations and others based on collaboration with geologists at Wilkes University in Pennsylvania.
It is important to document which problems, if any, exist in the water, such as iron, hardness or manganese, because these levels may be affected by the drilling process. It is also important to document the lack of problems. For example, documenting that no volatile organics exist prior to drilling activities will be helpful should they show up after drilling has occurred. Most importantly, the sample should be collected by a third party that is trained in proper sample collection. This establishes a chain of custody, which will be important if litigation arises. The chain of custody documents who is in possession of the samples at all times, maintaining that the samples have not been tampered with.
National Testing Laboratories has developed tests and procedures for defense against fracking. You can get information from their website or by calling 800-458-3300.
Marine Base's Water Contamination That Caused Male and Female Breast Cancer and Leukemia Goes Back to at least 1953
Camp Lejeune's shameful water scandal started four years earlier than was previously believed.
President Obama signed a law last year granting health care and screening to Marines and their dependents on the Camp Lejeune marine base between 1957 and 1987.  A new government study shows that  drinking water in the residential Hadnot Point area of the base was unsafe for human consumption as far back as 1953. According to a Marine spokesman, the extension of the time line will add between 33,000 and 53,000 to the number of people who lived at the base when the water was contaminated.
Contamination resulted from years of leaking fuel tanks, which estimates now show leaked at least a million gallons of fuel, and to a lesser degree from an off-base dry cleaning establishment.
According to the Washington Post, "The Marines were slow to react after groundwater sampling first showed contamination on the base in the early 1980s. Some drinking water wells were closed in 1984 and 1985, after further testing confirmed contamination from leaking fuel tanks and an off-base dry cleaner. . . . Health officials believe as many as 1 million people may have been exposed to tainted water." 
It is believed now that the base's water supply was contaminated with VOCs (volatile organic compounds) at least as early as 1953.  
The fifteen health conditions singled out in the 2012 law that veterans and family members who served on active duty or resided at Camp Lejeune for 30 days or more during the 24 year can make VA medical care claims for are
Esophageal cancer
Breast cancer
Kidney cancer
Multiple myeloma
Renal toxicity
Female infertility
Scleroderma
Non-Hodgkin's lymphoma

Lung cancer
Bladder cancer
Leukemia
Myelodysplastic syndromes
Hepatic steatosis
Miscarriage
Neurobehavioral effects
More details from the Washington Post
WQA Aquatech USA 2013
The annual convention of the Water Quality Association of America will be held in Indianapolis this year, April 2 through April 5. The location is the Indianapolis convention center. The convention features conferences and product exhibitions and is generally regarded as the main event of the year for water treatment professionals.

More details from the WQA website.
 'Green' Approaches to Water Management Are Gaining Ground Around World
By Stephen Leahy
 Editor's Note:  This excellent article from Nation of Change contains examples of the wisdom of cooperating with natural systems rather than attempting to dominate them.–Hardly Waite.
After Hurricane Sandy swept through the northeast of the United States late October 2012, millions of New Yorkers were left for days without electricity.  But they still had access to drinking water, thanks to New York City's reliance on protected watershed areas for potable water. 
Instead of using electric-powered water treatment plans, New York City brings its high-quality drinking water through aqueducts connected to protected areas in the nearby Catskill/Delaware forests and wetlands – just one example of how protecting watersheds can provide residential areas with drinking water and flood and pollution protection at bargain basement prices. 
New York saved between four and six billion dollars on the cost of water treatment plants by protecting forests and compensating farmers in the Catskills for reducing pollution in lakes and streams. 
In 2011, countries around the world invested more than eight billion dollars in similar watershed projects around the world, according to the State of Watershed Payments 2012 report released Thursday. That year, China led the way, accounting for 91 percent of watershed investment. 
"Whether you need to save water-starved China from economic ruin or protect drinking water for New York City, investing in natural resources is emerging as the most cost-efficient and effective way to secure clean water and recharge our dangerously depleted streams and aquifers," said Michael Jenkins, president of Forest Trends, a non-governmental organization (NGO) in the United States, which compiled the report. 
Previous studies have shown that pollution, the building of dams, agricultural runoff, conversion of wetlands, and waterworks engineering have severely affected global river systems. The wealthier the country, the bigger the threat to river systems, primarily because of expensive waterworks engineering, according to the first-ever health assessment of river ecosystems around the world, as previously reported by IPS. 
Promoting a new approach 
Given the water engineering mentality of the 1990s, it wasn't easy to convince health and safety officials that a "green waterworks" approach would work for New York City, said Genevieve Bennett, lead author of the Watershed Payments report and a research analyst with Ecosystem Marketplace. 
But trees, grasses and plants are extremely effective at cleaning and retaining water, as well as reducing sedimentation that clogs water reservoirs, Bennett told IPS. "The benefits from these watershed programs extend far beyond water: they support biodiversity, reduce greenhouse gas emissions, and provide income for the rural poor," she said. 
In watershed protection programs such as those in New York, farmers are paid to use soil and water conservation techniques – payment for good stewardship that benefits the public, Bennett added. 
Government regulations, however, remain a major constraint to similar projects in many countries. New York's well documented and highly successful strategy has not been emulated by many other cities, including those in China or India, where engineering expertise is highly prized and huge engineering works are a matter of national pride. 
Investing in sustaining existing ecosystems is better than destroying them and attempting to engineer solutions, Charles Vörösmarty, an expert on global water resources, previously told IPS, "Water management costs will skyrocket if developing countries adopt the approach of developed nations," he added. China is one country that has begun to change its approach, according to the report. About 108,000 residents in struggling communities upstream of the southern coastal city of Zhuhai are receiving new health insurance benefits in exchange for adopting land management practices to improve drinking water in the region. 
"There are lots of different ways watershed investments are being made in China, some good and some bad. There's lots of learning happening," said Bennett. 
Beginning of change 
In Latin America, the trend in water programs is to offer compensation other than cash for protecting water resources. In Bolivia's Santa Cruz valley, for example, more than 500 families receive beehives, fruit plants and wire, which can be used for fencing to keep livestock away from rivers and stream banks, in return for their water protection efforts. 
A Swedish local water authority found it cheaper to pay for a program to establish blue mussel beds in Gullmar Fjord to filter nitrate pollution than to build a new treatment facility on shore. In Uganda, a beer brewer is paying for the protection of wetlands to retain their valuable capacity to maintain a steady and abundant supply of clean water. 
The vast majority of investments in watersheds are with public money. The private sector still thinks providing good quality water is up to governments, Bennett said. However, the public sector is unlikely to be able to invest the 17.7 trillion dollars needed for water infrastructure by 2030, according to the Organization for Economic Cooperation and Development (OECD). 
A green infrastructure is by far the cheaper option and provides a host of other benefits, Bennett concluded. 
More information and pictures from Nation of Change website.
 More Than 1,000 Communities Will Recover Part of the Expense Incurred Removing Agricultural Chemical from Water Supplies
More than 1,000 communities that have spent millions of dollars over many years filtering a common agricultural herbicide, atrazine,  out of their drinking water are welcoming their shares of a $105 million settlement with the weed-killer's maker.
The tiresome suit has gone on for nine years.  Atrazine's maker, Swiss-based Syngenta,  said it agreed to the settlement, approved in October by a federal judge in southern Illinois, "to end the business uncertainty" and avoid further legal costs. The company denied any liability or wrongdoing linked to the chemical, which it will continue to sell.
Research has shown runoff after rainstorms can wash the chemical into streams and rivers, where it can enter drinking water supplies. The settlement covers water systems used by 37,000 Americans.  
The settlement money will go to community water systems that serve more than 37 million Americans, mostly in farming states. While some consider it "free money," others said it's only a pittance compared with what they've spent dealing with atrazine.
Most cities have expressed that the settlement reimburses only a fraction of the actual cost of treating their drinking water for atrazine poisoning.
systems from at least a half-dozen states — Illinois, Iowa, Indiana, Kansas, Missouri and Ohio — sued Syngenta for reimbursement of the cost of dealing with atrazine. $3.1 million going to Columbus, Ohio appears to be largest sum collected by a single city.  
Atrazine is an herbicide used to control grasses and broadleaf weeds around row crops such as corn, sorghum and sugarcane. Its use has been banned in the European Union since 2003, but it remains the second most pervasive agricultural herbicide in the United States after glyphosate (Roundup®).
More about atrazine from the Pure Water Products Contaminant List.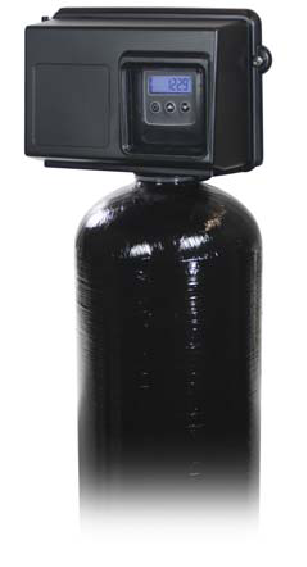 Available Now--Coming Soon to our Main Website
We've been selling single-tank aeration/filtration units for treatment of iron and hydrogen sulfide for almost two years. . Early next year we'll be putting up an expanded offering of these excellent systems on our main website.

We're now offering six models of single tank aeration/filtration units that draw in air during their regeneration cycle. No pumps or external venturies are needed. We initially sold these only with Birm and/or Centaur catalytic carbon, for iron and hydrogen sulfide treatment. Early next year our main website will offer a Birm only version for light iron problems, a catalytic carbon version for odor plus a small amount of iron, a Filox version for heavy iron and odor problems, and a calcite version to pre treat low pH water in front of an iron filter.
We pre-program the 2510 SXT controller (see picture above) before shipping, so installation and setup are extra easy.This is the most user friendly aeration/filtration treatment system we know of.
Water News of the Month
Below are links to January's posts in the Pure Water Gazette's "Today's Top Water Stories" section. A few are included in this newsletter. Reading the Gazette's daily posts will make you wiser and probably more beautiful.

Water Treatment 101: Why UV Is Gaining in Popularity for Microbe Control in Well Water

by Pure Water Annie

Pure Water Gazette Technical Wizard Pure Water Annie Explains Why UV Is Rapidly Becoming the Most Popular Way to Keep Microbes Out of Well Water.
By its nature, water provides a an inviting growing place for bacteria.  Bacteria, viruses, and protozoa are tiny creatures, but when ingested over time and in sufficient quantities they can lead to serious health problems. E coli, a member of the coliform family of bacteria, has received enough public attention to be feared and respected, although it is only one of many microorganisms that can be dangerous.
Actually, bacteria are fairly easy to control as compared with cysts like giardia and cryptosporidium, which are bigger, tougher and very difficult to kill with conventional water treatment disinfection chemicals like chlorine.  Cysts have a protective outer shell that protects them from municipal water treatment chemicals.
Essentially, there are three strategies that can be used to control  potential disease-causing microbes in water.
1. Chemical treatment with chlorine, chloramine, hydrogen peroxide and other less frequently used disinfectants. Chemicals are not effective against cysts. Chemicals remain the treatment of choice for municipal water supplies, however,  because chemicals like chlorine provide a residual effect that stays in the water all the way to the home.
2. Straining through very tight filters.  Bacteria, for example, can be removed by very tight sub-micron filters, and cysts, which are much larger, are easily blocked out even by a one or two micron filter. Straining is a popular strategy for emergency filters and small point-of-use drinking water filters.  It can be applied for cysts in larger applications, though flow restriction usually makes it impractical for bacteria control where significant flow rates are required.
3. Ultraviolet treatment which eliminates both bacteria and cysts.  Ultraviolet treatment (UV) involves passing the infected water near an ultraviolet lamp that has enough intensity to alter the DNA of water-borne pests. UV is becoming the favorite technique for well owners because it is easy to install, easy to maintain, and relatively inexpensive. It is also popular because it provides a complete treatment and adds nothing objectionable to the water.
More About UV
Disinfection chemicals like chlorine are measured in "parts per million" of the disinfectant.  Straining devices are measured by the micron size of the filter.  UV is a little more complicated.  The standard measure of UV dosage is mJ/cm2,  megajoules per square centimeter.  This number is a measurement of the intensity of the lamp with consideration of how fast the water flows past the lamp. Although NSF standard is 40mJ/cm2, in the water treatment industry it is generally assumed that 30mJ/cm2 is more than enough to treat residential well water.  In fact, a 16mJ/cm2 unit is twice as hot as it needs to be.  6-10mJ/cm2is sufficient for most pathogens.  6mJ/cm2 will do away with 99.99 percent of E. coli.

The clean, classic Watts UV unit. A powerful and effective but simple system that makes non-potable water safe to drink. It is rated for 30mJ/cm2 at the specified flow rate.
The High Cost of Nuclear Energy
by Hardly Waite
In the early 1950s  a small nuclear testing facility called the Knolls Atomic Power Laboratory was set up near the Mohawk River in New York to be used for research involving nuclear weaponry.  The plant operated for less than three years, closing in 1953. Its purpose was to find methods for  recovering uranium and plutonium from spent nuclear fuel.
In December 2007, DOE awarded a $69 million cleanup contract to Washington Group International of Oak Ridge, Tenn. Work began in September 2008. In April 2009, the federal government announced a $32 million stimulus grant to help pay for the cleanup.
The cleanup is still in progress, and last month (Dec. 2012)  hundreds of gallons of radioactive water spilled from a drainage pipe into the Mohawk River. A failed sump pump system caused tainted water — containing Cesium-137, Strontium-90, uranium and plutonium — to overflow into a culvert draining directly into the river.
Although officials in charge of the cleanup  said the spill did not present any immediate threat to public health, the elements in the spill are known carcinogens.
The issue is probably not so much that several hundred gallons of carcinogen-contaminated water were dumped into the Mohawk River as the bleak prospect of continuing to create virtually eternal wastes that are "cleaned up" by simply moving them from one temporary disposal site to another.
The more nuclear waste we create, the more our water supplies will suffer.
More information from the Times Union.
---
| | Numerical Wizard Bea Sharper ferrets out the watery facts that Harper's misses |
| --- | --- |
Facts You Would Have Learned Had You Read This Month's Top Water Stories Articles in the Pure Water Gazette. Aren't you ashamed that you didn't?
Number of gallons of fuel leaked into the ground by Camp Lejeune's fuel tanks--1,000,000.
Annual tap water production of Phoenix's new solar water treatment plant -- 15 billion.
20-year energy cost savings expected as a result of the solar plant -- $4.2 million.
Liters of water required to make a single cotton tee shirt --2,700
Number of rural Chinese who do not have access to safe drinking water -- 320 million.
2012 increase in Nestle's bottled water business in China -- 27%.
Years during which it is now believed the Camp Lejeune's water was severely contaminated--1953-1987.
Depth of the hole the Russians drilled through ice to reach the ancient waters of Lake Vlostok--2.5 miles.
Percentage of people who drink water who will eventually die -- 100%.
Gallons of gasoline spilled in an early January pipeline break at Jackson, Wisconsin--54,000.
Length of a typical E. coli bacterium -- 2 microns.
Thickness of a typical E coli bacterium -- o.5 microns.
Percentage of treated water that is lost by leaks after treatment by many water treatment plants -- 20 %.
Percentage of treated water that is lost through leaks after treatment by the very best of water treatment plants -- 7%.
Percentage of E. coli that is disabled by a relatively small 6mJ/cm2 treatment -- 99.99%.
Approximate number of permits issued by the EPA that allow companies to pollute deep aquifers --1500 plus.
Year in which atrazine was banned by the European Union--2003.
China's percentage of the important investment in world watershed development -- 91%.
Approximate pH of lemon juice, vinegar, and stomach acid -- 2.
Approximate pH of sea water -- 8.
Pure Water Gazette Now in a New Format
Our information-stuffed variety magazine, the Pure Water Gazette, has taken another turn. The Gazette started as a paper publication in the 1980s. The last paper issue was mailed in 1997. It has existed since as an information-rich website whose navigation and aesthetic properties were suffering from years from neglect. Although the old site can still be seen here, the best of the old content has been relocated to a much more manageable and search-friendly blog-style format. The new site is up and running as a work in progress with over 400 articles and many more to come. At least one new article is added each day. The new site is at the old location, http://www.purewatergazette.net. Please visit!